From a Fallow Field - echoes from 100 years ago
Published: 2 October 2015
Composer Drew Mulholland has marked the 100th anniversary of the Battle of Loos by premiering a new work. AUDIO
Drew Mulholland, who is composer in residence in the School of Geographical and Earth Sciences and department of Physics and Astronomy, has marked the 100th anniversary of the Battle of Loos by premiering a new work.
"From a Fallow Field" was inspired by the composer's grandfather, Brian Gallacher, who was a stretcher-bearer and injured in the battle.
Listen to From a Fallow Field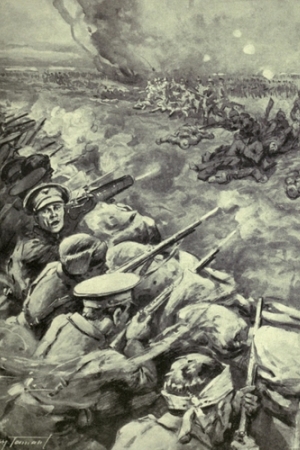 The duet for cellos was performed on the evening of September 25 at a commemorative event held at the University's Memorial Chapel.
The evening included a programme of readings from WWI letters and diaries interspersed with vintage records played on a trench gramophone.
All donations were given to Erskine, which has been caring for veterans and servicemen and women since 1916 when Sir William Macewen, a professor at the University of Glasgow, founded the Princess Louise Hospital for Limbless Soldiers in Erskine.
The Battle of Loos is famous for the extensive involvement of Scottish troops, with around 30,000 taking part. In all, 39 members of the University's community died during the battle, 22 of them on September 25.
Mr Mulholland said: "My grandad had signed up to serve with the Argylls and was posted to the Western Front.
"As his beliefs forbade him to bear arms, he opted to be a medic and during the battle was shot and lost two fingers from his left hand, ending his passion for playing the violin and the bagpipes."
He wanted "From a Fallow Field" to reflect some of the sounds and rhythms of the battle – at one point the cellos echo the drone of the bagpipes – but also express his horror and bewilderment at the slaughter of World War 1.
He has kindly given permission for a recording of a rehearsal of the music to be shared; he plans to have it recorded for his next album "Five Quartets".
---
First published: 2 October 2015