SRC interviews principal
The four-strong Students' Representative Council sabbatical officers have conducted a wide-ranging interview with the Principal.
The four are the most senior representatives of the students at the University, and sit on a number of committees including the two governing bodies of the University, Senate and Court. It is their job to make sure students' voices are heard at the highest level of the University.
Led by SRC President, Liam King, they grilled Professor Anton Muscatelli on issues ranging from the estate strategy and projects such as the library refurbishment, NSS results on assessment and feedback, student services and support for extra-curricular activities. The fifteen minute session, recorded in the studios of the Media Production Unit, also touched on Britain's future in the European Union...and the somewhat hairy subject of Movember!
You'll be able to watch the SRC - Principal interview in next week's Campus e-News. And from Monday 16 November, you can get a sneak preview at: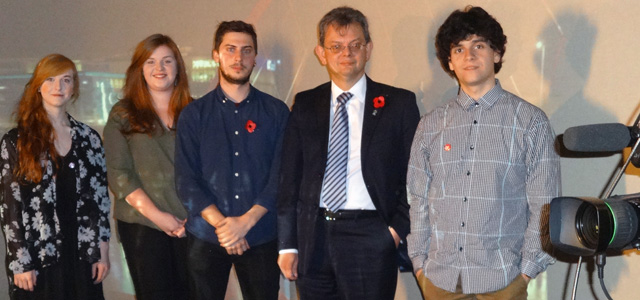 ---
First published: 10 November 2015