Competition successes for hospitality staff
There were culinary successes for University of Glasgow hospitality staff at this year's University Caterers Organisation (TUCO) Annual Skills Competitions.
The 22nd Annual TUCO competition was held in Blackpool on 16 and 17 March 2015.
TUCO is the leading professional membership body for 'in house' caterers operating in the higher and further education sector. Their annual competition aims to showcase the work of some of the most talented people in university catering sector.
200 chefs, foodservice personnel, caterers and baristas from higher education institutions across the UK took part.
Five staff members from the University of Glasgow competed in the competition across four categories.
Street Food Chef of the Year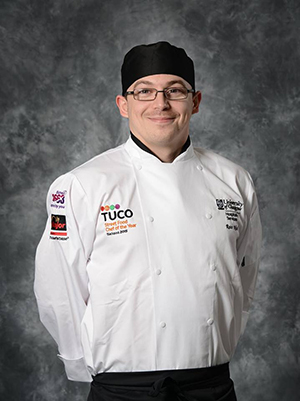 The Street Food Chef of the Year competition called for competitors to create a vegetarian, a chicken and a sustainable fish dish based around the theme of street food.
Ross Nicol picked up two awards in this competition – best newcomer and a bronze award.
Ross has worked at the University of Glasgow since 1998 and currently heads up a team of seven on the University's sandwich preparation unit.
With his team he produces 70,000 sandwiches, 72,000 grape pots and 70,000 yoghurts per year for retail units across campus.
It was his dishes of vegetarian spring rolls, mango chicken with bean and rice bake and Tom Yum seafood broth which helped him scoop the prize.
Salon Culinaire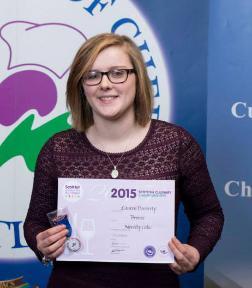 Lauren Docherty, a catering assistant at the Garscube campus entered the Salon Culinaire competition in the novelty cake category.
Lauren's 'Harry Potter' cake won a silver award. This followed on from her success last month at Scothot, Scotland's biggest trade show, where she picked up a bronze award for a cake of the same design.
‌The novelty category called for cakes that are 'fun, fun, fun!' and Lauren displayed that with her detailed Harry Potter creation.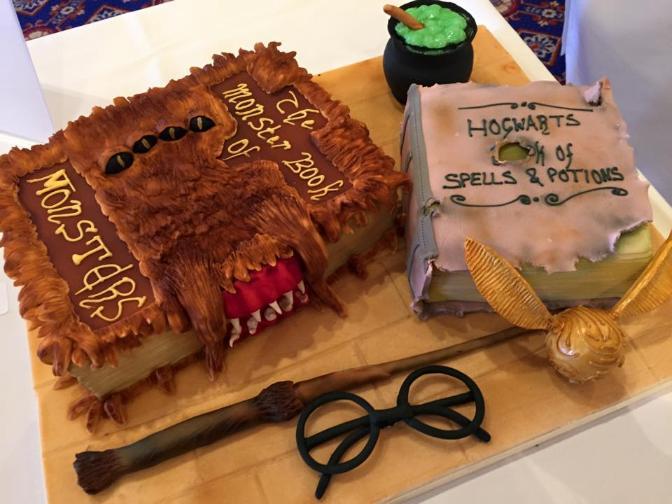 Lauren discovered her talent for baking at a young age and soon progressed from making cakes for friends and family to owning her own small business, making bespoke cakes.
Barista Skills Challenge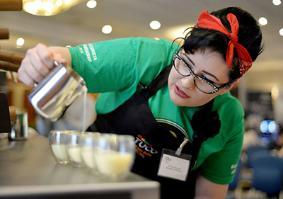 The Barista Skills Challenge gave competitors the chance to showcase their skills, knowledge and talent in making the perfect cup of coffee.
Christa Campbell, is the Supervisor of the Gilchrist Postgraduate Club at the University of Glasgow. She entered the Barista Skills Challenge and placed 9th out of 25 entrants.
Christa is a keen coffee aficionado and loves exploring Glasgow's many coffee houses to develop her knowledge.
Chef's Challenge
The Chefs' Challenge gave teams of two chefs the opportunity to create a three course meal from a box of mystery ingredients.
Representing the University of Glasgow were Scott Girvan and Denise Melvin who created an ambitious menu of: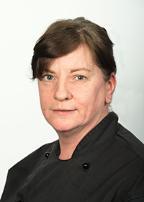 Starter: Seared scallops with celeriac and saffron puree, warm endive, fennel, orange and dill salad
Main: Herb crusted tenderloin of pork with braised red cabbage, slow cooked belly pork with roasted garlic mashed potato, caramelised apples and brandy jus
Dessert: Lemon drizzle sponge with textures of meringue, lemon curd,orange coulis and chocolate dirt
Scott has been the hospitality services executive chef since 2006. Since being appointed, he has overseen the £2.5 million redevelopment of the Frazer building and the rebranding of the in-house careering brand, FOOD.
‌Denise has enjoyed a varied career in the hospitality industry having worked in a butchers shop, behind a bar and in airline catering. She joined the University of Glasgow team 4 years ago and currently working as a commis chef.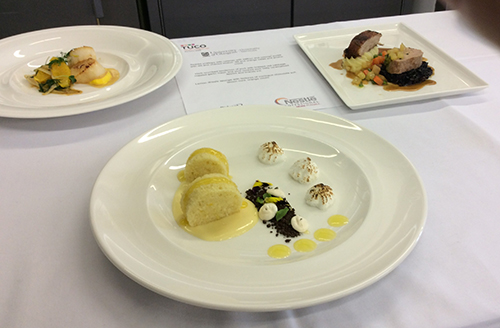 Demonstrating skills
Team manager and Executive Chef Scott Girvan said: "Having personally had 15 years of successful experience in competitions I believe it's key to staff development that our team get the chance to demonstrate their skills and to benchmark against our UK university colleagues.
"Ross, Denise and Lauren have all undertaken specialist catering college courses whilst they have been employed at the University and taking part in competitions is another part of that learning process. Christa was our inaugural entrant in the Barista competition and found the opportunity to meet fellow baristas from across the UK invaluable. This year Top 10-next year Top 3"
---
First published: 27 March 2015