Meet our Inspiring People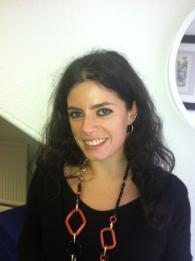 Meet Dr Vivien Williams, research assistant for the Editing Robert Burns for the 21st Century project.
Vivien moved to Glasgow from Italy to study for a PhD in English Literature at the University. After completing her PhD in 2013, Vivien stayed at the University to be part of a project at the Centre for Robert Burns Studies which will produce a multi-volume edition of Robert Burns' opera omnia.
Specialising in Musicology, Vivien's role focuses on research dealing with Burns' songs and musical work.
With the first volume of work already published and a second volume set for release next year, Vivien's team are making new research about Robert Burns and his work.
She said: "We are focusing on primary sources and manuscripts, and are certainly discovering lots of new interesting facts about Burns. Although I won't give too much away until the next volume is published!
Passion for bagpipes
Vivien has long had an interest in music and has studied many different instruments including the piano, bass guitar and singing. Her true passion lies in studying the history of the bagpipes.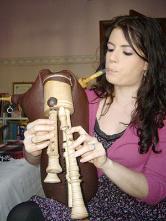 What Vivien doesn't know about bagpipes is not worth knowing. While studying for a Masters and PhD, her research focused on the cultural history of the bagpipe. However, her interest in the instrument was sparked much earlier in life.
With an Italian mother and English father, Vivien often enjoyed trips to Nottingham to visit her Grandmother. It was one of these trips that contributed to her pursuing an academic route of researching the bagpipe.
Vivien said: "I'm not entirely sure when I became so fascinated with the bagpipe. I think I can pinpoint it to seeing a Highland bagpipe for the first time in a music shop in Nottingham when I was about 15 or 16 years old. It immediately gripped my attention and I felt like it brought the world of bagpipes closer to me. I started noticing the occurrence of bagpipes in literature, art and music from all over the world. "
At school Vivien insisted that teachers let her write about her research into the history of bagpipes. She managed to convince them to let her write her final high school dissertation on the subject.
Vivien went on to study for a BA and MA in Foreign Languages and Cultures at the University of Bari. It wasn't until she came to the University of Glasgow that her passion was really taken seriously.
Vivien said: "Doing a PhD at Glasgow was one of the best phases of my life. I loved the topic I was studying and I loved being taken seriously when talking about the bagpipe, it felt like freedom!"
Media interest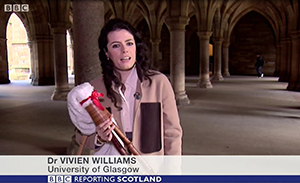 Now an expert on the use bagpipes in art, literature and music, Vivien found herself in demand with the media on International Bagpipe Day on 10 March this year.
Vivien was surprised by all the media interest and in just one day she appeared on BBC Radio Scotland's Good Morning Scotland programme, BBC Radio Newsdrive, BBC Reporting Scotland evening news, the BBC website, STV Glasgow's Riverside Show and STV Scotland Tonight.
Future plans
Vivien is thoroughly enjoying working on the Robert Burns project and describes the job as a 'wonderful experience working with an incredible team.'
Her interest in Burns in a way followed naturally from her passion for bagpipes.
Vivien said: "With the bagpipe as the national instrument of Scotland and Robert Burns as the poet of the country the topics were bound to combine. Of course, my favourite Burns poem has to be Tam O'Shanter because it famously features bagpipes!"
Vivien already has two fellowships lined up in the future (University of Edinburgh, and Warburg Institute); both will allow her to return to studying the bagpipe.
Vivien said: "I don't think I will ever abandon the bagpipes nor will they abandon me. There is still a lot of research to be done."
Both Vivien's parents are University teachers back in Italy and it looks like she is to continue to follow a similar path in academia. As part of her PhD she had the opportunity to teach and that is something she would like to pursue in the future.
She said: "I want to continue in academia through research and teaching. Teaching can be very rewarding when you meet students who are excited about the subject. Each class leaves you with different memories. I am so inspired by my subject and I hope I can inspire students to feel the same way."
| | |
| --- | --- |
| If you could have a superpower what would you choose and why? | |
| I would like to fly because I think it would give me a sense of freedom. It would be a chance to see things from a different perspective and go where other people can't go. | |
| What was the last book you read? | |
| The last book I read was Gulliver's Travels. I really enjoyed it and there is something about early 18th century writing style that just keeps your attention stuck to the page. My all-time favourite book though is Jane Eyre. | |
| If you had to eat one food for the rest of your life what would it be? | |
| Chocolate! That was an easy question. | |
| What one item would you grab if your house was on fire? | |
| I would grab my personal diaries. I started writing them when I was nine years old and still write in them now. | |
| Is there anyone at the university who inspires you? | |
| Murray Pittock, was my PhD supervisor and he and his work really inspire me. He was an amazing supervisor and always made time for me. He is a very busy man but helping me with my PhD never felt secondary to his other tasks. | |
---
First published: 27 March 2015