DJ's Christmas Party raises £2,500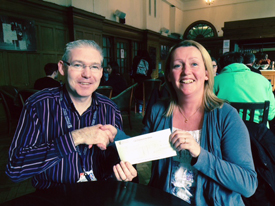 Last December's staff Christmas Party, an annual fixture organised by Estates and Buildings' Derek Johnston, raised more than £2,500 for children's charities. The total raised over the last four years the party has been running now stands at just under £10,000.
Derek, known to most as 'DJ', was recently able to hand over a cheque for £2534.00 to the Scottish Branch of the 'Make-a -Wish' charity, a UK organisation that raises funds to provide treats and special occasions for children facing serious illness.
Derek, a Maintenance Services Supervisor, has been organising the party for several years. A highlight of the annual event is a guest appearance by 'stars of the 70s', together with a disco, karaoke, raffle and buffet.
---
First published: 16 March 2015