Sporting success: Badminton and Squash
There has been further success for University of Glasgow teams in British Universities and Colleges Sport (BUCS) Trophy Competitions.
Both the Men's Badminton and Women's Squash teams won their semi-final matches this week, and progress to the respective national finals.
The clubs themselves describe their journey to the finals:
Men's Badminton
The first round of the current Men's BUCS Trophy campaign was a home game vs Leeds 1sts which was won comfortably 8-0.
The second round was away to Manchester 1sts – a closer match but we still came through with a 5-3 victory.
The quarter-final, away to Hertfordshire 1sts, was a difficult match to organise due to the distance and the availability of some of our key players. We ended up flying 4 out of a 6-man team down to Stansted. After throwing 2 games, the match finished 4-4 but we went through on set countback (9-8).
On Wednesday the men's first team played Durham 1sts in the semi-final at the Emirates Arena. Matthew Carder (our BUCS champion) and Danny Leinster played singles with Craig Morrison & Jack Stevenson at first doubles and 2nd team players Daniel Hong & Alan Tsoi at second doubles. It was a 5-3 win overall.
We are up against Loughborough 2nds in the final, a rematch of the 2012/13 BUCS Trophy final where Glasgow was victorious.
They beat us in the quarter-finals last year (4-4 but with more sets) so we are out for our revenge!
This match will take place at Loughborough University on Tuesday 24th March.
Women's Squash – Summary
Having been very successful at the SSS tournament in Edinburgh, the Women's 1st team made it through to the final 16 after a 4-0 win against St Andrews at home.
This then saw the girls travel to play Newcastle University. Travelling down to Newcastle were Mhairi Charlton, Rebecca Symmons, Rebcca Baird and Emma Jackson. Chauffeured by Club Captain Joshua O'Donovan the girls came away with a massive 3-1 win.
The quarter final match was again an away match which saw the girls head down to Birmingham to play their 3rd team. This was a very close match but black and gold prevailed with Mhairi 'grannying' her opponent in the final game to win 11-0.
Powering through to the semi-finals, the girls got a home draw against Lancaster. With huge support at the Stevenson Building, with a guest appearance from GUS the mascot, the girls secured a massive 3-1 win this time with Beth Cowan playing no4.
The girls will travel to Nottingham to face Birmingham 2nds on the 25th March.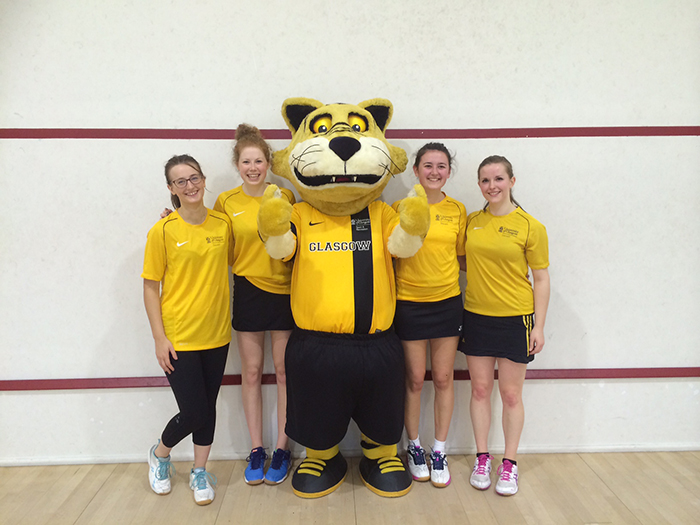 ---
First published: 13 March 2015