Prof Bulleid receives Royal Society accolade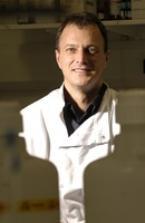 The Royal Society, the UK's national academy of science, has announced the appointment of 19 new Royal Society Wolfson Research Merit Award holders.
This includes Professor Neil Bulleid of the University of Glasgow.
Professor Bulleid is professor in Cell Biology and Director of Research Institute at theInstitute of Molecular Cell and Systems Biology.
His research spans many areas of molecular cell biology including disulfide formation, collagen biosynthesis, MHC Class I assembly, protein folding in the cell, lipid attachment to proteins, oxidative stress and protein degradation.
Jointly funded by the Wolfson Foundation and the Department for Business, Innovation and Skills (BIS), the scheme aims to provide universities with additional support to enable them to attract science talent from overseas and retain respected UK scientists of outstanding achievement and potential.
The Royal Society is a self-governing Fellowship of many of the world's most distinguished scientists drawn from all areas of science, engineering, and medicine.
---
First published: 13 March 2015