Prestigious award for Terry Millar of E&B
Terry Millar, Services Clerk of Works with Estates and Buildings, has received the highly commended 'Building on Quality' Award from The Institute of Clerks of Works and Construction Inspectorate (ICWCI).
Terry received the award for his work overseeing the construction of the Sir Michael Stoker Building and Wolfson Wohl Cancer Research Centre.
As Clerk of Works Terry was involved throughout the entirety of both projects, during the construction and as part of the handover team for the buildings.
The ICWCI awards is in its thirteenth year and recognises the skills and abilities of Clerks of Works and Site Inspectors within the construction process. The awards are held every two years.
Ann Allen, Director of Estates and Buildings, nominated Terry for the award. In April he attended an awards ceremony in Penrith, Cumbria with his wife.
'Brilliant surprise'
"I love my job, to me it is the best job in the world!" Terry Millar.
Terry said: "The awards ceremony was a tremendous night. I didn't know that I was going to win and I was on the edge of my seat as they announced the winners. It was a brilliant surprise when they called my name.
"I was ecstatic to receive this Highly Commended Award."
Ann Allen told Campus e-News: "It's excellent to see Terry's work recognised through this award. The role of the Clerk of Works is often one that is not recognised however it is vital in the success of any construction project. It is the Clerk of Works who ensures that the contractors deliver to the quality that we expect.
"Terry leads a dedicated team of Clerks of Work we are lucky to have working for the University."
Maze
Chairman of the judges, Meredith Whilden said; "The quality of projects this year has been higher than ever before, there were some very strong contenders which has made choosing the winners even more difficult."
Terry has been a practising Clerk of Works for 40 years and has worked at the University for nearly ten years. He started his career at Scottish Homes, the national housing agency where he was the youngest Clerk of Works in the organisation.
Terry said: "I love my job, to me it's the best job in the world. My role is to guide contractors through the maze of construction difficulties to achieve the best possible quality standards and value for money. I really enjoy the many challenges that we come across in the projects section. I enjoy meeting new people through my job and the opportunities to use new cutting edge technology."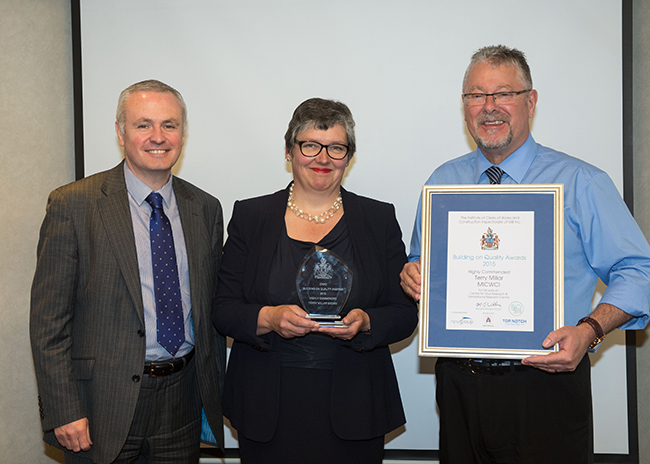 ---
First published: 29 June 2015