Engineering and Medical Graduates: 100 Years ago
This week is the second week of Summer Graduation. Students from the College of Medical, Veterinary and Life Sciences; the College of Social Sciences; and the College of Science and Engineering will receive their degrees over the coming week.
To celebrate these graduations, let's take a look at some BSc Engineers and Medical graduates from 100 years ago, writes Racheal Egan, Heritage Engagement Officer.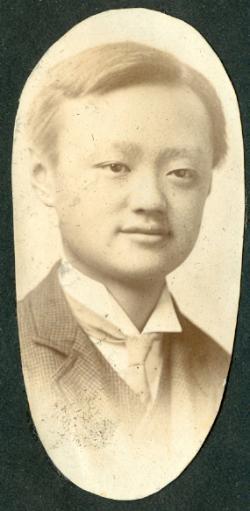 Tsoo Hong Lee
82 students graduated with a BSc in 1915. One of those was Tsoo Hong Lee.
Tsoo Hong Lee (modern day spelling, Li Yishi) graduated BSc from the University of Glasgow on 21 June 1915. He was born in Soochow (Suzhou), son of Pon, a retired civil servant.
Lee first matriculated in 1910-11, aged 24, joining the Faculty of Science. During his four years he signed up for classes and advanced classes in Mathematics, Natural Philosophy (Physics), Chemistry, and Physical Chemistry.
Lee was also a student at the Glasgow School of Art from 1907-1912, and became the first Chinese student in the UK to graduate in the Fine Arts.
Lee used his studies in Art and Engineering from Glasgow throughout his career as a lecturer of Engineering at the Beijing School of Engineering, and Professor and Director of the Oil Painting Department at Beijing Art School where he pioneered the study and practice of Western Art in China.
Eliza Vonck
Another International BSc graduate 100 years ago, who specialised on Engineering, was Eliza Vonck.
He graduated BSc from the University in 1915, making him the first Dutch-Indonesian graduate of the University.
He was born in Djombang, Java, son of Gerrit Cornelius, a manager of a sugar factory.
Vonck enrolled at the University in 1913, giving his home town as Hilversum in the Netherlands.
Over the course of his degree, Eliza took classes in Mathematics, Natural Philosophy, Physical Laboratory, Chemistry, Engineering (drawing and laboratory) and Electrical Engineering.
He graduated BSc in Engineering on 1 April 1915, and worked as an engineer in Hilversum.
Helen Isobel Winifred Kerr
97 students graduated with a medical degree in 1915 and 12 post-graduates received an MD.
One of our 1915 medical graduates was Helen Isobel Winifred Kerr. She graduated MBChB from the University of Glasgow in 1915 and MD in 1954 with the thesis Treatment of rheumatoid arthritis, with special reference to the endocrine aspect.
She was born at Kingston, Jamaica, daughter of John Wishart Kerr, a medical practitioner.
Kerr enrolled at the University in 1910 to study Medicine. Upon graduation in 1915, she worked in the Ophthalmic department of Glasgow Royal Infirmary.
During the First World War, in 1916, Kerr served in the Royal Army Medical Corps and was stationed in France and Malta as part of the Women's Medical Unit (RAMC).
After the war, Helen returned to Glasgow for further medical training, and went on to work as a medical officer at East Suffolk County Council, and in Colchester.
Congratulations to all Scientists, Engineers, Medics and Vets receiving degrees this week!
---
First published: 29 June 2015