District Heating Scheme gets underway
Work is gathering pace on the University's £16m District Heating Scheme. The next twelve months will see extensive construction work to prepare for a sustainable, lower-carbon future.
Already a central compound including workshops has been erected by the main contractor, Crown House Technologies Limited. This has reduced the number of parking spaces available outside the Boyd Orr Building. At the weekend, the first of the temporary steam boilers used to maintain heating during the construction work were installed on the Gilmorehill site. (See map - Kelvin and Gilbert Scott)
As work progresses on a rolling basis, some parking will have to be suspended and some vehicle and pedestrian routes may also be temporarily restricted while trenches are dug for the new replacement pipework.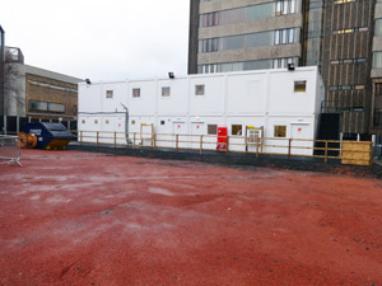 From the start of February construction work will begin in the areas of:
Graham Kerr Building
Kelvin Building
West Medical Building
Joseph Black Building
Main Building - Gilbert Scott
Over the course of this year, most of the Gilmorehill Campus will be affected at one time or another, including the areas on the other side of University Avenue.
These will include the Wolfson Medical School, Boyd Orr, Alwyn Williams, Sir Alexander Stone, Queen Margaret Union, Adam Smith and Hetherington buildings. In later phases, work will extend to the McMillan Reading Room, Stevenson, Rankine, GUU and Sir Charles Wilson buildings.
In order to maintain heating services, temporary steam boilers will be sited adjacent to some of these buildings. Those units will start arriving at the end of January.
Carbon emissions
Using the latest combined heat and power technologies the project will help the University reach its environmental target of a 20% reduction in carbon emissions. The current heating system is more than fifty years old and has reached the end of its life. The risk of regular system failures is high with the potential to disrupt teaching and research.
Crown House Technologies Limited, working with the University, aims to offer the project as a teaching opportunity to some engineering students. It's hoped that some local apprenticeships will also be created.
If you have questions about the district heating scheme, or are concerned about the impact of the construction work, contact: communications@glasgow.ac.uk
---
First published: 19 January 2015