Meet our Inspiring People
Dr Jo-Anne Murray is Associate Dean of Digital Education in the College of Medical, Veterinary and Life Sciences (MVLS). Jo-Anne joined the University of Glasgow last September from the University of Edinburgh where she was Deputy Director for Postgraduate Taught in the College of Medicine and Veterinary Medicine, where a significant component of her role involved developing online distance learning programmes.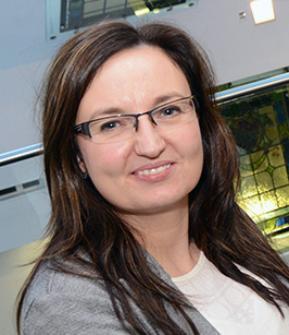 Jo-Anne joined the University of Edinburgh in 2004 to run their on-campus Equine Science Masters programme. Jo-Anne has been involved with horses since a young girl and after many years of working on different equestrian yards and attaining her British Horse Society Intermediate Instructor qualification, Jo-Anne completed her degree in Equine Science, a postgraduate diploma in Animal Nutrition and a PhD in Equine Nutrition. Jo-Anne is also a registerd Nutritionist with the British Nutrition Society and has published extensively on equine nutrition.
"I have always loved working with horses and teaching others. Having an academic and practical background has allowed me to see things from different perspectives and to appreciate the principles of putting science into practice"
During her time at Edinburgh, Jo-Anne developed one of the first online masters programmes in the University, whilst at the same time completed her Masters in E-learning from the University of Edinburgh. It was through this that Jo-Anne's developed her appreciation of digital education.
"Taking an online part-time Masters programme whilst working full-time and looking after a young family allowed me to experience the challenges my students faced. It also made me realise the importance of providing flexible online education for people wishing to attain a degree qualification whilst working and managing their personal lives.
World class
Jo-Anne went on to develop many new online distance learning programmes and was part of the team that launched the first set of Massive Open Online Courses (MOOC) at the University of Edinburgh.
"Running a MOOC was both incredibly challenging and rewarding, but the feedback and gratitude of the participants made all the effort extremely worthwhile"
Jo-Anne's vision is to put MVLS at the forefront of online education by delivering world-class programmes that make effective use of educational technologies for both on-campus and online distance education students.
"Our aim is to provide quality, flexible online education that is interactive and fun. Delivering education online brings students and tutors together from around the globe, fostering international collaborative learning."
People Make Glasgow
Since joining Glasgow, Jo-Anne has initiated the development of several new online masters programmes and is beginning to build a team in her digital education unit in MVLS.
"I had 10 fantastic years working with some incredible people at the University of Edinburgh, but joining Glasgow has been one the best career decisions I have made. The saying the people make Glasgow is certainly true of the staff within Glasgow University. I could not have been made to feel more welcome, and the enthusiasm of the staff to get involved in online education has blown me away."
Jo-Anne's team will launch four online distance learning masters programmes in September and two postgraduate certificates. The team will also support and develop the use of blended learning across a range of on-campus programmes as well as launching Apps to enhance the student experience and aid the transition of School leavers into Higher Education. Several online courses will also be developed for staff transitioning into using online delivery methods in their teaching and for PGR students, online resources will be developed to support their learning and build an online community of learners that are spread geographically across different campuses. The Virtual Glasgow Campus on Second Life will also be completed and ready for use later this month. This online 3d virtual campus will be used to deliver live seminars, poster presentations, simulated laboratory practicals and clinical skills scenarios. It will also have tutorials spaces, a virtual café and resource hub housing information on all student support services.
"It is exciting times ahead for the University of Glasgow in the area of online learning and I feel very privileged to be part of the journey."
Quick Questions
What were your New Year resolutions?
To start running again - I love to run, but sometimes find it hard to fit it in with work, kids and the horses.
If you could have one superpower, what would it be. And why?
To be able to wiggle my nose like Samantha in the TV programme Bewitched - that way I could clean and tidy the house in seconds giving me more time to ride my horse.
What was the last book you read?
Bridget Jones: Mad about the Boy - I love those books
What do you like to do when you are not at work?
Spend time with my family, ride my horse and meet friends for coffee; anyone who knows me will know that I do love my Mocha coffees.
Meet our Inspiring People: Do you have a colleague who inspires you? Let us know at communications@glasgow.ac.uk
---
First published: 14 January 2015