Principal to head £1bn city scheme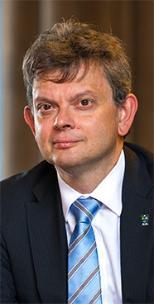 The Principal and Vice Chancellor of the University of Glasgow, Professor Anton Muscatelli, is to Chair the Commission on Urban Economic Growth for the new Glasgow City Region. His appointment, and that of Lord William Haughey, as chair of the Glasgow and Clyde Valley Economic Leadership Board will be confirmed at the next meeting of the Cabinet for the £1.13billion City Deal for the Glasgow City Region on 20 January.
The City Deal will fund major infrastructure projects, drive innovation and growth through the support of key sectors such as life sciences, and address challenges in the region's labour market. These projects will allow a programme of work which it is hoped will greatly add to the value of the local economy over the next 20 years.
The UK and Scottish Governments is each to give the City Region £500million in grant funding, and the local authorities will borrow a further £130million.
Councillor Gordon Matheson, Leader of Glasgow City Council, said: "Bringing two such substantial figures on board is a significant step forward for the Glasgow City Region City Deal. Lord Haughey and Professor Muscatelli are not only great supporters and advocates of Glasgow, but bring with them a wealth of skills that can only help in our delivery of what is the biggest economic project ever to take place in Scotland. I - and all our partners in this City Deal - look forward to working with them."
Commenting on his appointment, Professor Muscatelli said: "This is a crucially important as well as a very exciting time for the Glasgow City region. In bringing together the expertise and innovation of business, universities and other stakeholders we can really help ensure that the future continues to be one of economic and social development and regional success. I am delighted to have been invited to Chair the Commission on Urban Economic Growth and look forward to working with colleagues to really deliver for the Glasgow City Region.
See also The Herald.
---
First published: 19 January 2015