Tay House moves draw near
The relocation of 220 University Services staff to Tay House at Charing Cross, Glasgow will start to get underway at the end of this month.
The process involves colleagues from Estates & Buildings, Finance, Human Resources and Planning and Business Intelligence. The acquisition of modern office accommodation, less than two miles from the Gilmorehill Campus, will free up existing office accommodation at Gilmorehill, particularly in the Main Building, to ease pressure on learning and teaching space.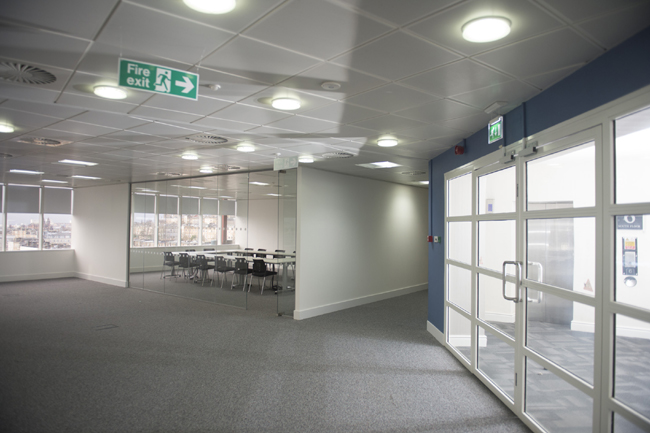 The lobby/reception area at the University of Glasgow's sixth-floor, Tay House offices. A training/meeting room is in the background. You can see a gallery of photos of the Tay House offices, taken by the University's Photographic Unit, here:
Accommmodation pressures

The decision to initiate the relocation programme was first announced last May. At the time, the Principal, Professor Anton Muscatelli, said: "We have been very lucky in the way that we have managed to keep most of the University team on campus. And that is the way we want to keep things in the longer term as we start to develop both the Gilmorehill site and the Western Infirmary, when we gain access to it in mid-2015.
"In the short term, however, as it will take some time for us to access the additional Western infirmary land, we need to address our accommodation pressures and the Senior Management Group has agreed to look at the options for relocating limited numbers of University Services staff. We will only do this as long as it can be achieved in a way that maintains our high levels of professional service and does not place our staff in inferior accommodation."
‌Programme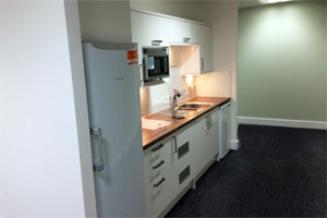 After months of planning, and a complete fit-out of the University's sixth floor accommodation at Tay House, the first of the moves will be taking place in a matter of weeks:
Estates and Buildings staff who are relocating will move on 2 February. Human Resources and Planning and Business Intelligence will also move that day.
Finance staff who are relocating will move on 9 February and 16 February.
The project team have organised induction days for the staff who are moving. These are designed to give colleagues the chance to see the newly completed University accommodation and the areas where they will be working. Parking and cycling fobs will be issued to those who are entitled to them and UofG/Gilmorehill permits collected. There will also be a brief presentation on Fire and Safety and general protocols for working at Tay House.
Read more about the launch of the Tay House accomodation.
For the most part, telephone extensions will remain the same. Finance, Human Resources and Estates and Buildings will still have staff based at Gilmorehill. The University Services who are relocating will carry an updates on changes to contacts, personnel or accommodation on their own web pages.
Find information about travelling to and from Tay House.
Overall security at the Tay House building is tight and unless you carry a Tay House ID card, you will need to let University of Glasgow staff there know you are visiting in advance.
---
First published: 16 January 2015