Cervical Cancer Prevention Week
The University of Glasgow has long been at the forefront of research, teaching and world events. In this regular feature we will highlight the latest National Awareness Campaign and demonstrate ways in which the University has been historically involved with each topic. You may be surprised how far reaching the University of Glasgow is!
This week is...
Cervical Cancer Prevention Week
From 25– 31 January the European Cervical Cancer Association (ECCA) runs Cervical Cancer Prevention Week. Over six days, the organisation aims to draw awareness to cervical cancer by providing information on the development of the disease and prevention.
UofG Historical Links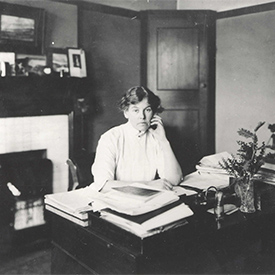 One of our World changing alumni, Dame Anne Louise McIlroy (1874-1968) was a pioneer in gynaecology and obstetrics and also a leading female doctor.
She was the first woman to be awarded an MD by the University and the first woman to be officially registered as a research student there.
She was one of the first female medical graduates in Scotland and was after awarded an honorary LLD by the University in 1935.
She became the first female resident at Glasgow Royal Infirmary, and went on to become house surgeon at the Glasgow Samaritan hospital and gynaecologist at the Royal Infirmary.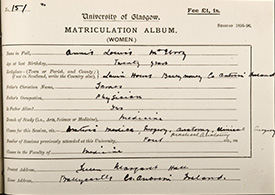 She was also the first woman senior assistant to the Muirhead Professor of Obstetrics at the University.
During the war Anne Louise served at the Scottish Women's hospital in France, Salonika, and Serbia and was awarded the Croix de Guerre and two Serbian medals.
After the First World War she became a consultant and Professor of Obstetrics and Gynaecology at the Royal Free Hospital in London and published a pioneering textbook on pregnancy.
Anne Louise McIlroy was created a Dame of the British Empire in 1929 for services to midwifery and became a founder fellow of the Royal College of Obstetricians and Gynaecologists.
‌You can find out more about the world-changing Dame McIlroy on our World Changing website. You can also view more biographies of our fantastic alumni on our University Story website.
Continuing research
The University continues its first class research today and you can keep up to date with the University's research into cervical cancer at the Institute of Cancer Sciences and the Beatson Institute for Cancer Research.
---
First published: 26 November 2014