National Marriage Week
Given that the romantic day of Valentine's Day is celebrated on 14th, February has become a month all about the heart, romance and marriage, writes Rachael Egan.
Marriage week was first established in 1997 and this year will run from the 7-14 February. In honour of this, let's take a look at the archives of the University's Chapel, where many happy couples, with links to the University of Glasgow, have tied the knot over the years.
Weddings at the University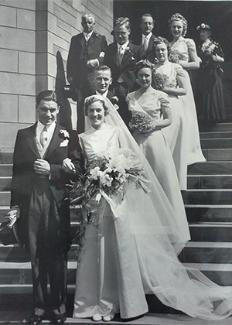 Archive Services hold a collection of records relating to the University Chapel, including marriage registers which document each couple married there, their witnesses, and who conducted the ceremony.
‌Recently the daughter of a couple married at the Chapel visited Glasgow and contacted the Archives to share her parents' wedding photograph.
The photograph on the right was taken on the Chapel steps on 4th August 1938 and is the wedding party of John and Charlotte (née Nicholson) Edgar. The bride graduated from the University with an MA and her father was also a graduate.
The Chapel registers begin in 1930 and the first marriage took place on 15th March 1930 between William Tweeddale and Greta Campbell Lees, who graduated with an MA from the University in 1924. They were married by Archibald Main.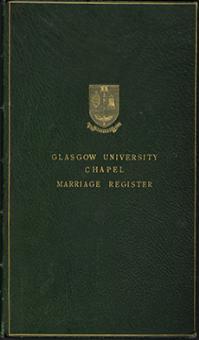 ‌The University Chapel is a memorial to the 750 University staff, students and alumni who fell in the Great War. It was opened, by the Principal, on 4th October 1929 and dedicated "to the unfading memory of the brave men and women who in the Great War gave their lives for us and the freedom of the world [...]." Their names are inscribed on the tablets at the east end of the Chapel, to which have been added the names of the 432 who gave their lives in the Second World War. In 2003, the names of those whose service had only recently come to light were inscribed on additional tablets on the South Wall.
‌The first University Chaplain was Reverend Dr Archibald Craig and after he was appointed in 1930, daily morning services were established and a full University Service held each Sunday during term and marriages began to be conducted.
Today the Memorial Chapel continues to be the hub of worship within the University, welcoming people of all faiths and backgrounds and also remains a very popular wedding venue!
---
First published: 26 January 2015