£1.3m Wellcome grant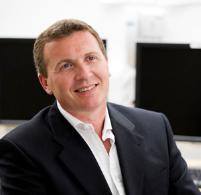 Professor Philippe Schyns, Director of the Institute of Neuroscience and Psychology and Head of School of Psychology, has played a lead role in securing a substantial award from the Wellcome Trust.
Professor Schyns has been given an Investigator Award to the tune of up to £1.3 million for research work that will take place over 60 months, beginning in January.
Professor Schyns plans to use the grant to further understand the brain by developing brain algorithmics.
He said: "The ultimate goal of cognitive neuroscience is to understand the brain as an organ of information processing. This will remain difficult unless we understand more directly what information the brain processes when it categorises the external world.
"For example, our brain can extract from a face (a powerful social communication tool) information to categorise identity, age, gender, ethnicity, emotion, personality and even health. Though our brain knows what information to use for each task, as information receivers we typically do not have direct access to this knowledge.
"The current state of cognitive neuroscience is similar - we aim to understand the brain as an information processor, but we do not know what stimulus information it processes."
The grant will help Professor Schyns and his colleagues address this fundamental problem by developing brain algorithmics, a framework that first isolates what specific information underlies a given visualcategorisation, then examines where, when and how the brain processes this information.
As the Wellcome Trust explains, "Investigator Awards provide funding for scientists who have an excellent track record and are in an established academic post. They offer the flexibility and time to enable them to tackle the most important questions in their field."
---
First published: 14 December 2015