Memorial service for William McIlvanney
A funeral and memorial service will be held today at the University of Glasgow for alumnus William McIlvanney. Hundreds of people are expected to attend.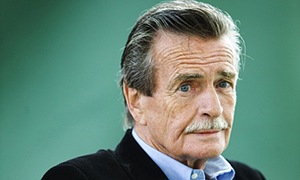 William McIlvanney, writer, poet and political thinker, died last week after a short illness. He was 79.
His funeral service will take place in the University Memorial Chapel at 12.30 pm followed by a Service of Cremation at Dalnottar Crematorium at 2.30pm.
A Memorial Service will be held in the Bute Hall on Saturday 2 April at 3.00pm.
Both the funeral and memorial service are open to the public.
You can read the Order of Service William McIlvanney Service. (PDF document) Please be aware that the details here are subject to change.
William Angus McIlvanney graduated from the University of Glasgow MA in 1959. Read more about his life at The University of Glasgow story.
---
First published: 7 December 2015