District Heating Scheme: this week's update
Crown House Technologies, the main contractor, are aiming to have ALL the current road works on University Avenue/Gibson Street completed by Friday 18 December and cleared away for the Christmas and New Year break. Some of the road works will resume early in the New Year, but there is now light at the end of the pipes! In fact the construction teams have now dug and laid five and a half kilometres of pipes and our new combined heat and power system will help the University reach its environmental target of a 20% reduction in carbon emissions. As well as heating, we'll be producing our own electricity and we'll be using the energy centre as a teaching resource for our students. We have laid the foundations for our World Changing Campus.
Gibson Street
Excavations for the district heating scheme pipework are now well underway on Gibson Street and University Avenue/Kelvin Way. Traffic controls are in place at the junction.
Excavations are also underway on the upper level of Gibson Street, adjacent to the GUU/Stevenson extension.
All works on Gibson Street are expected to be completed by 18 December and temporary traffic lights will also be removed by this date.
In January works will move to Westbank Lane by Hillhead Primary School and the rear of the GUU.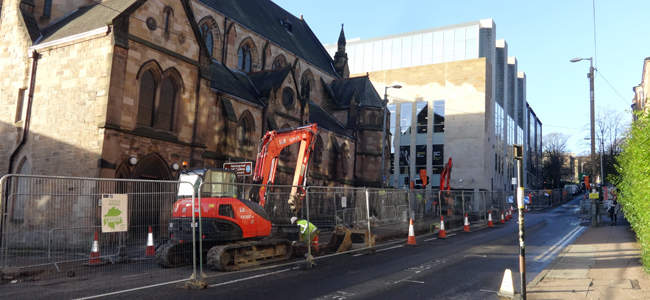 Bower building/Isabella Elder building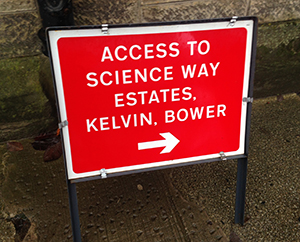 The Botany Gate remains closed. Access between the Bower Building and the Isabella Elder building will remain closed until 18 Dec. The area will be reopened over the holidays. Excavation in front of Bower building will resume in early January
Science Way
Work from the Joseph Black building to the Davidson building continues. Areas at the Graham Kerr building will be reinstated before the holidays.
Ashton Lane
Work continues in the lane between the Gregory building and Ashton Lane. There is an alternative stairway at the side of the adjacent Boyd Orr building. Backfilling and reinstatement has started.
Modern Languages
The trench to the side of the Modern Languages building will be filled from this week and access will be reinstated shortly.
QMU
After the path to the right of Modern Languages is reopened the path between the side of the QMU and Modern Languages will close for a trench evacuation to begin. This will be early in the New Year.
The current work outside the QMU is progressing well.
All trenches will be reinstated before holidays.
Side of Hetherington
Continuing to excavate and install ducts down the lane.
Road plates across trench during out of hours to maintain through access for bin collection.
Adam Smith
Resurfacing in Bute Gardens has been completed. The date for reopening the normal access route to Adam Smith will be advised.
Lilybank House
Works continue across to Adam Smith sub-station with suspension of some car parking at North West side of Adam Smith.
Questions?
If you have questions about the District Heating Scheme, or are concerned about the impact of the construction work, contact: communications@glasgow.ac.uk
---
First published: 11 December 2015