Wellcome Trust delegation visits the ARC
The College of Medical, Veterinary and Life Sciences was delighted to host a delegation from Wellcome Trust on Friday 11 March 2022. The delegation included their Director, Sir Jeremy Farrar and provided an opportunity for recipients of Wellcome Trust funding to find out more about the trust's new strategy and priority areas.
The visit was a first for the ARC, our Advanced Research Centre. The building is not yet open or fully operational, but the team welcomed the opportunity to host the visit and showcase the new space to one of our key funders. The visit also provided an opportunity to test hybrid meeting facilities in the ARC with many colleagues from the College dialling in to watch the presentation from Wellcome Trust and ask questions.
Speaking about the visit Head of College, Professor Iain McInnes said "It was encouraging to hear just how closely aligned our research strengths and areas of interest are with the Wellcome Trust. There are huge opportunities for us to work even closer and the message from Wellcome on engagement and collaboration was very clear. Hosting the visit in the ARC provided us with an opportunity to showcase the investment we are making in research and our commitment to interdisciplinary collaboration to meet global health challenges."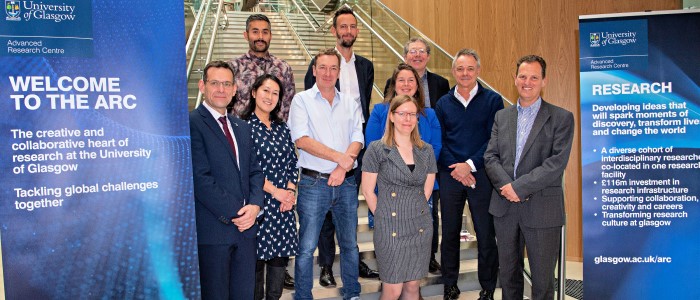 Find out more
ARC
---
First published: 15 March 2022