Health & Wellbeing guidance for working or studying remotely
It is important that we take time to maintain our health and wellbeing while studying or working remotely. These are particularly challenging times and the road ahead may be unclear. However, there are certain things we can all do to help balance our working and personal lives.
If things do get tough, there are support structures available to offer you the information and guidance you need. Read on to find out more.
Tips for maintaining your Health & Wellbeing
Staying Well When Working or Studying Remotely
Working or studying remotely can be difficult and lonely, especially when it is for prolonged periods of time. With the situation as it is, it is unclear when we will be able to return to campus and what shape that may take so there are a few things you can do to ensure you stay well while working or studying remotely continues.
Connect & communicate - Stay in touch with daily catch-ups and regular chats. There are many tools you can use that you may already be familiar with, such as Skype and Facetime and others you may be just getting used to, such as Microsoft Teams and Zoom. If you feel like you haven't heard from someone in a while, why not message them to check they are coping. We all need to be there for each other.
Create your ideal environment - While we aren't in our usual surroundings where we ordinarily work or study, we are all in the place where we go at the end of a normal day, home. Make sure you're as comfortable as you can be to study or work. Sit at a desk, if you have one, park up on the couch, even hop onto bed if you like. It may not be what we're used to, but you can still be comfortable. Remember that sitting in one position for long periods of time can cause stiffness, so make sure you move around frequently.
Get outside - We all need lots of fresh air so make sure to get outside when you can. Of course, be mindful of the latest guidance around the restrictions and Social Distancing when you do. If you can get outside safely, such as in your own garden, or a shared space - do so, if you can't, open a window to get some fresh air to ventilate your room.
Stay nourished and hydrated - Be sure to eat well and drink plenty of water. It's easy to graze while you're at home. You may find yourself raiding the cupboards more than you would normally so just keep check to make sure you aren't eating too much of the wrong food. By the same token, you may find yourself engrossed in something and so forget to eat at all. You need to stay nourished as you would do normally so remember to eat.
Exercise and keep active – If you are able to make the most of outdoor activities. Alternatively, there are plenty of exercises you can do to stay active from the comfort of your home. UofG Sport have a number of videos and instructions on how we can keep moving while we work and study remotely.
Rest - Make sure you get plenty of rest and sleep. Take time in each day to relax and switch off from your work or studies. It's all too easy just to keep going beyond the time you normally would call it a day, don't. Put your feet up and relax.
Don't be too hard on yourself or others - Adapting to home working or studying under the current circumstances can be stressful. Be patient - we all need to get used to a new way of working. You may well be using certain technology for the first time so it can take a bit of time for you and others to get used to it.
Think about the things you can control and not what you can't – In times of crisis, it's natural to feel a sense of hopelessness or lack of control – but it's much healthier to focus on aspects of work and home life that are in your control. This might be things like how you structure your day, how often you exercise, and the mode and frequency of how you communicate with colleagues, friends and family.
Family First - Never has it been so important to put our loved ones first. It can be very difficult to manage personal and work life at the moment, however, one thing should be clear family will always take priority over work.
Ask for help & support - Don't hesitate in asking for what you need. This is a rapidly developing situation that changes daily, so there may be issues you encounter that you need help with. By the same token, be that helping hand for someone else. We all need to step up and do our bit just now and be there for each other.
Try to have fun! - Take time to share and enjoy the bad jokes, funny GIFs and stories. We all need to keep our spirits up at the moment. We all miss the camaraderie of the day to day chats we have with our fellow students and colleagues, but you can still have a laugh while working or studying remotely.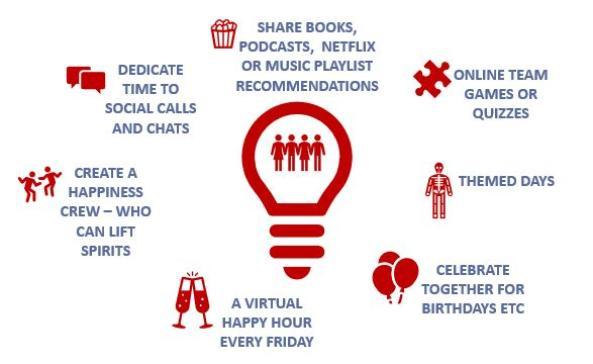 The situation we all find ourselves in is highly unusual and at times can be very unsettling, remember it is important to support each other. Whether it is your fellow students, colleagues or family and friends we all have a duty to look out for each other so reach out and keep the lines of communication open. It is vitally important that we're are all there for each other, and by the same token if you are struggling yourself speak up.
Key support for Health & Wellbeing
Help is here if you need it
These are challenging times for all of us, and everyone has different pressures on them managing their studies, work and personal lives. Sometimes you might feel a bit overwhelmed by it all, and that is ok, we should all make that little bit more effort to look out for each other.
In general
It's perfectly understandable to feel anxious right now
Limit the news and be careful what you read - stick to trusted sources as there's plenty of fake news articles out there
Have breaks from social media and mute things which could trigger anxiety, don't let yourself get overwhelmed
Stay connected with people by phone, email, FaceTime, Skype, etc
If your workload is becoming unmanageable speak up
Try to focus on the here and now - don't let your thoughts and plans get too far ahead
If you feel like you need additional support there are a number of resources:
Mental Health Support
Support available to both Staff and Students
The University subscribes to the Big White Wall, a safe space online to get things off your chest, explore your feelings and learn how to improve and manage your mental health and wellbeing.
It's free to use and completely anonymous
Accessible 24/7 and provides online peer and professional support by trained counsellors
Register through the Join Us button on the site, and then select Universities & Colleges under Organisation.
Additional support for staff
PAM Assist – Confidential support and advice 24 hours a day, 365 days a year. Telephone 0800 882 4102. PAM also provide online self-help resources:-

Username - UoG
Password – UoG1

Occupational Health – Staff can be referred by their Line Manager to the University's Occupational Health Service, which provides support to promote and preserve both the physical and mental wellbeing of all staff.
Support Available to Students
Mental Health support websites
Helplines
There are a number of apps that you can use to manage any stress or anxiety you may be feeling
Gender Based Violence Support
The University recognises that home is not a safe and secure place for everyone. You may be experiencing domestic and/sexual abuse whilst spending more time at home.
You have a right to feel safe wherever you are and whatever you are doing.
Scotland's domestic abuse and forced marriage helpline provides support to anyone with experience of domestic abuse or forced marriage, as well as their family members, friends, colleagues and professionals who support them. Call 24 hours a day 7 days a week on 0800 027 1234 or Email on helpline@sdafmh.org.uk.
If you are at immediate risk of harm, please do not hesitate to dial 999. Police Scotland remain committed to tackling GBV throughout this pandemic and beyond.
You may want to record your experience through an App such as Bright Sky.
Third-party voluntary organisations are committed to supporting people during this time. Many of these organisations have moved online or to telephone services and are still available for those who need to leave their situation.
If you require external support, organisation who can provide this are:
Support for Under-Represented Groups
Recognising that under-represented groups may feel more isolated or require more focused support during the enforced closure of the campus, the Equality and Diversity Unit in Human Resources have collated a list of the external support and information sources available. Please visit the Equality and Diversity pages for further information.
Chaplaincy
The university's Chaplaincy service continue to provide pastoral and spiritual care for both students and staff whilst restrictions continue. Please visit the Chaplaincy page for further information.
Guidance for working or studying remotely
Top tips for working or studying remotely
Working or studying from home can be tricky, however, there are a number of things that we can do to make it a little easier. Try and find whatever suits you best and if something works try to stick to it. If something doesn't change it up until you feel like you've got a balance that fits. Here are a few tips to consider:
Create a daily routine - Try to stick to a regular routine. If you'd normally shower and have a coffee before going to the University, continue to do so as it helps maintain a routine to distinguish between work and rest time. Try to create a morning 'commute' for yourself as you would normally - go for a short walk before working.
Schedule (and take!) regular breaks - Regular breaks should be a key part of your routine as they provide an opportunity to clear your head and give your eyes a break from looking at a screen, as well as time to stay active and hydrated. A healthy structure can be established but it's easy when working or studying remotely for this to fall out of good practice. By setting yourself mini tasks you can take a break when they're finished. Not only is it important for mental health and general wellbeing, it also helps feeling organised and making the most out of the working day.
Keep a dedicated workspace - Pick a spot free from distraction and set boundaries. Not all of us have room to make an office at home, but we can all pick a spot that we feel best working from. Get comfortable and crack on with what you have planned for the day.
1-2-1s and regular meetings - These should continue, even when working remotely. If you had these in the diary before the closure of the campus then every effort should be made for these to continue, and if you didn't have anything set up it is worth doing so now. They provide an excellent opportunity to check in and so will be even more valuable now we are no longer all working in close proximity.
Balance work time and processing time - Working remotely means there are likely to be a lot more virtual meetings/conference calls to attend. It's important to take some time in between these to process what has been discussed and straighten up in your mind what actions may be required of you as a result. You should also ensure that you don't fill up your diary too much that it stops you from being able to do what you need to. Don't be afraid to speak up if you don't have the time to attend a meeting, you can always propose an alternative time that allows you to concentrate on the job at hand.
Plan your day - Create a to-do list for yourself. Writing down what you need to do each day gives you a checklist of what you need to get through each day. You can prioritise what you need to concentrate on first and work through the list until everything is done.
Continue to collaborate - If you worked on certain tasks collaboratively before there's no reason this should stop while working remotely. There are plenty of tools you can use to collaborate and share files with your colleagues. You might not be used to using them yet, but you'll soon find it's easy enough to work together from different locations.
Get guidance on your work - If you are unclear of what you are meant to be doing ask. Speak to your Line Manager if you are unclear on what you should be doing. Some roles at the university are significantly more difficult to do while working remotely so check in to make sure you are doing what you can. If you are getting overwhelmed by your workload, again, speak up. It's easy to get anxious if you too much on your plate so get in touch with your manager so the work can be prioritized to make it more manageable.
Change your working practices – The enforced change to university working and studying life has shown how quickly we can all adapt to change. Now may be the perfect time to change other ways we work. The Modern Ways of Working website has some great information on agile and other transformation methodologies and frameworks, as well as templates for team development workshops that could help get things moving.
Manage your notifications - Ensure you get the information you need but are not interrupted or overwhelmed. As everything moves online, for the time being, you may be involved in more chats. Prioritise the ones you need to respond to and pick up the others when you feel like you have more space to do so.
Your working hours haven't changed - Don't forget that while the way we are working has changed, the hours we should be working haven't. You should try as much as possible not to put in more hours than you normally would. Just because we are currently working in the same place we live doesn't mean you have to work all the time. Log off at the same time you normally would.
Set an end-of-day routine - Shut down, switch off and focus on your own needs. Remember, if you were at the University, you would turn off the computer at the end of the day, you still need to do this, although your commute might be shorter!
Manage boundaries between work and home life – Take care not to let work and home life become integrated. For some, integrating home and work life isn't a problem, but it's important to find ways to disconnect from work and re-charge batteries. Make time for and prioritise non-work activities that energise you, either at the start or end of your working day. Be clear about your working hours and don't be tempted to check work emails outside of your working day.
Working out what suits you best can take some time but stick with it and you'll hopefully get the perfect work-life balance. If you are still struggling reach out to your colleagues and line manager to see if there's anything else that can be done to help.
Home working training module launched
You are invited to complete the online course on effective home working
Colleagues and students are invited to undertake a new online Moodle training module to assist with working from home.
The Homeworking Essentials module is optional and includes a series of interactive lessons including advice on how to create a safe workspace, manage time effectively and work securely.
Any University staff member or student can work through the module at their own pace, and it should take around 50 minutes to complete. For staff, completion will be recorded within your CoreHR training record.
You can also access information about remote working on the University's Glasgow Anywhere webpages. These include useful links to business systems and software.
Practical Tips for working or studying remotely
The UK's broadband networks will be under considerable strain during this period where many of us will be working and studying remotely, and the UK ISPs are doing what they can provide as much capacity as possible to support the country, but there are some common sense things we can all do to improve the situation and minimise our impact on network capacity.
Whilst you are logged into the VPN using the UofG Client avoid using this device for other non-work internet services or streaming audio or video whilst the VPN is active
If you connect via Wifi make sure you have a good strong signal. Can you move closer to your router?
Turn on your radio or watch broadcast TV rather than stream music or video whenever possible
If you have to stream video, can you reduce the resolution- reducing from 4K to HD, or HD to SD is about a 75% bandwidth saving each time
Be aware of what everyone else at home is doing on the internet and work with them to not overload things when you need to work
Giving your broadband router a reboot from time to time can help prevent issues, maybe once a week?
Understand that domestic broadband connections are sold as a shared service and is designed to have contention, and at times of peak usage you cannot always expect to get the advertised speeds.
Ensure you are aware of your broadband contract details, any usage limits, make sure you know the contact and account details for your ISP in case you need to talk to them for technical support.
You can try to use 4G and a personal hotspot if performance on your wired broadband is poor, but
understand your data usage limit, and
if all data in your contract is available for use as tethering or if there is any fair use limit
use your phone to carefully monitor your data use, but make sure you have correctly set the day of the month when your allowances renew
Getting your point across with email
Working remotely puts an added emphasis on how we write emails what we want to say. A lot of how we communicate will now be done by email or through chats on the likes of Microsoft Teams, so we need to make sure we get our point across in the best way possible.
Use informative subject lines on emails - It is important that recipients of your messages have a clear indication of the content of your email so they can prioritise it appropriately. Subject lines should be specific and concise.
Be clear about the email/message's purpose - Whether you are sending an email/ message for information or for action, make it very clear within the first few lines what is expected. If possible, you should also include a due date. Use the BLUF approach – Bottom Line Up Front.
Keep it short and sweet - Does your audience have time to read your lengthy email/message? They may be reading them on a mobile device. Emails/messages that are short and well-structured and get to the point quickly are more likely to be read and responded to.
Consider your tone - Avoid overuse of exclamation marks and capital letters. Capital letters can be used sparingly to emphasise a word or phrase. If they are used excessively then this is the virtual equivalent of shouting.
Watch out for attachments on emails - Consider the file size and format of attachments. Not all computer users use the same software, which may make the attachment incompatible. Other organisations may have policies that discourage the sending or receiving of certain file types. Consider using Office 365 OneDrive or Teams instead.
Use a short informative email signature - Your email signature should at a minimum include your contact details. It can also state your working pattern, which will help other people time their communications or response appropriately.
Stand back - Is the email/message clear and concise? Are any actions or deadlines obvious? Is it tonally acceptable? Give it a final read and avoid sending emails/messages in haste. Check it for spelling and grammar. MS Outlook and Teams has tools that will help.
It's not all about work
While the rules about social distancing apply, we can use social media to remain connected with our friends and family. This can be vitally important in times such as we find ourselves in as self-isolating or simply keeping our distance from each other can make the world a lonelier place.
It's ok to take some time out of your day to check in with your friends or a loved one, in fact it is actively encouraged. We all need to look for each other in these challenging times so you should make sure you make time available to keep in touch.
Not all of us are tech savvy so here are a few suggestions of what you could use to keep in touch and retain a bit of normality in these strange times.
Smart phones have conferencing facilities, so why not dial in your friends to see how they are all coping
Video chats using the likes of Teams, Facetime, Skype and now Whatsapp can be a great way to see the person you are talking to
Display Screen Equipment (DSE)
The Safety & Environmental Protection Service has provided some useful information on how to set up a work area at home. Working remotely will likely mean staff and students are using computer equipment in ways that are not typical of their normal work use.
What seemed an adequate set up during the first few weeks of remote working or studying may now be causing issues such as back pain or posture problems. Physical working conditions can have a big impact on psychological health too. Working conditions at home will vary for lots of us but some things to consider are:
Posture – having correct equipment like monitors, laptop stands, keyboards and a mouse can help with this.
Lighting – making sure your room is well lit and allows natural light in (where possible)
Remove distractions where possible (such as noise)
Having a safe environment where there aren't any obvious hazards