Hunterian receives Glasgow Haggis Club Badge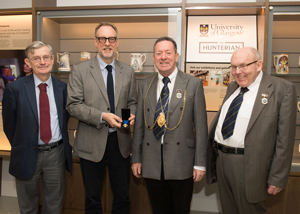 ‌One of Scotland's oldest Burns Clubs has donated a unique Past President's Badge to The Hunterian.
President of the Glasgow Haggis Club, David Vannard, and Vice-President Richard Fowler presented a specially produced medal to Professor David Gaimster, Director of The Hunterian, at its new home in Kelvin Hall.
It depicts Robert Burns on one side and the arms of Glasgow on the other where the inscription reads, Glasgow Haggis Club Instituted 1872. A bar bears the name of the first recorded President, N.G. Young 1881.
The badge joins an impressive group of Burns medals in The Hunterian Coin Cabinet, one of the world's great numismatic collections.
---
First published: 29 November 2016