COLLECTIONS
‌The Hunterian is home to one of the finest university collections in the world. Built on Dr William Hunter's founding bequest, the collections today include scientific instruments used by James Watt, Joseph Lister and Lord Kelvin; outstanding Roman artefacts from the Antonine Wall; major natural and life sciences holdings; Hunter's own extensive anatomical teaching collection; one of the world's greatest numismatic collections; impressive ethnographic objects from Captain Cook's Pacific voyages and a major art collection.

The Hunterian is also home to one the world's most important collections of the work of James McNeill Whistler, the largest single holding of the work of Charles Rennie Mackintosh and The Mackintosh House, the reassembled interiors from his Glasgow home.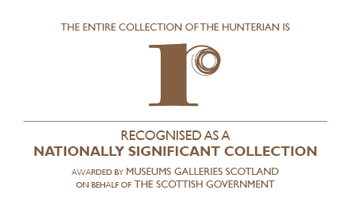 Recognition
The entire collection of The Hunterian is recognised as an outstanding example of a collection of National Significance, and of fundamental benefit to the life and culture of Scotland. The Hunterian was the first museum in Scotland to be awarded this status by the Scottish Government.