Models on show for Mackintosh Architecture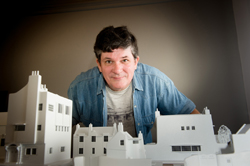 Six specially-commissioned Charles Rennie Mackintosh architectural models will go on display next week at the Hunterian Art Gallery as part of the major new exhibition Mackintosh Architecture.
The models were made by Brain Gallagher (pictured), a specialist modelmaker. They realize in three-dimensions six unbuilt projects by Mackintosh for an Artist's house in the town, an Artist's house in the country, three proposals for a gate lodge, and an unidentified house in Kilmacolm.
Brian is based in Biggar, Lanarkshire and architectural models are his speciality. He has produced major models of the Glasgow School of Art, the Willow Tea Rooms, Scotland Street School, The Hill House, and House for an Art Lover. His models have been exhibited at prestigious venues in the UK and US.
Mackintosh Architecture opens on Friday 18 July and runs until 4 January 2015. It is the first major exhibition dedicated to Mackintosh's architectural work and features over 80 architectural drawings from The Hunterian and collections across the UK. Many have never been exhibited before and are on display alongside specially commissioned film, models and archival material.
Mackintosh Architecture
18 July 2014 – 4 January 2015
Hunterian Art Gallery
Admission £5.00/£3.00
Open Tuesday - Saturday 10.00am - 5.00pm and Sunday 11.00am - 4.00pm
Hunterian Art Gallery
University of Glasgow
82 Hillhead Street
Glasgow G12 8QQ
---
First published: 10 July 2014