The Hunterian receives 'Girl with Butterflies' on behalf of the nation
Published: 10 December 2021
'Girl with Butterflies', a rare watercolour by Frances Macdonald McNair, has been acquired for the nation through the Acceptance in Lieu Scheme.
Girl with Butterflies, a rare watercolour by Frances Macdonald McNair, has been acquired for the nation through the Acceptance in Lieu Scheme, which is administered by the Arts Council, and allocated to The Hunterian, University of Glasgow.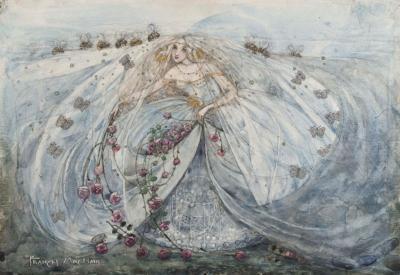 Frances Macdonald McNair is known for being one of The Four, an important group of artists who met as students at the Glasgow School of Art and made a significant impact on the Art Nouveau style at the turn of the 20th century. The group included the artist's sister Margaret Macdonald, Margaret's future husband Charles Rennie Mackintosh and Herbert McNair, whom Frances would later marry. The Four worked across many different areas of design including jewellery, architecture, metalwork, illustration, stained glass, textiles, interiors and poster design.
Butterflies are a recurring motif in the work of Frances and her husband Herbert. Girl with Butterflies is one of a series of symbolist watercolours by the artist of which only a small number survive. Only 42 were traced by Pamela Robertson in 2006 when she curated an exhibition about the McNairs (where Girl with Butterflies was displayed) at The Hunterian in Glasgow and the Walker Art Gallery in Liverpool.
Girl with Butterflies has remained in the same family for nearly 120 years and retains its distinctive original frame. Allocation of this work to The Hunterian provides a great resource for the University of Glasgow, greatly enriching its existing collection of textiles, textile designs, metalwork, bookplates and drawings by this important artist.
This acquisition is included in the Arts Council's Cultural Gifts Scheme and Acceptance in Lieu Annual Report 2020-21, published today. Despite challenges the museum sector has faced during the pandemic, the Arts Council can reveal that over the past year objects - paintings, archives, and items of cultural importance - worth £54 million were accepted for the nation and allocated to museums across the UK.
This eclectic range of objects encompassing paintings, sculptures, archives and even a steam locomotive have been allocated to public collections across the United Kingdom, where they will be available for generations to come.
Arts Minister Lord Parkinson of Whitley Bay said:

"The Acceptance in Lieu and Cultural Gifts Schemes exist to save important cultural objects for the nation, giving everyone an opportunity to see them on display.
"It's wonderful that so many fascinating works have been acquired through the scheme and I'm delighted that the vast majority have gone to institutions outside of London, benefiting museums, galleries and people across the country."

Sir Nicholas Serota, Chair, Arts Council England, said:

"This report marks 10 years of the Arts Council's administration of these schemes, which both play a vital role in ensuring that communities across the nation can enjoy cultural treasures close to where they live. During these years, a diverse array of unusual and exceptional items has entered public collections throughout the U.K, offering lasting inspiration to all for years to come.

"I am, as ever, grateful to the Acceptance in Lieu Panel, and its Chair, Edward Harley, who – despite challenges faced due to the pandemic – have worked hard to ensure that galleries and museums across the country benefit from these two important schemes."

Edward Harley, Chair, Acceptance in Lieu, said:
"I am grateful to all those who have contributed to ensuring that culturally significant objects continue to enter public collections despite the pandemic.

"As the report reflects, an exciting and diverse range of objects has been saved for all to enjoy; we are particularly excited that this year, the schemes have delivered their first-ever joint allocations and that items allocated outside London account for 81% of the total tax settled. These acquisitions will be a continued cause for celebration and community engagement and will benefit all regions of the U.K. for years to come."
Image: Frances Macdonald McNair, Girl with Butterflies, c.1902.
---
First published: 10 December 2021