The Hunterian strengthens team to deliver ambitious strategy
Published: 2 September 2019
The Hunterian at the University of Glasgow has announced eight new staff appointments.
The Hunterian at the University of Glasgow has announced eight new staff appointments.
The Hunterian is Scotland's oldest public museum and home to one of the best University collections in the world. The eight new appointments will significantly strengthen The Hunterian team, bringing new local, national and international talent from a variety of different backgrounds to Glasgow.
The University's continued investment in its museum and art gallery will allow The Hunterian to continue to deliver its ambitious strategy - offering a wide public programme while supporting the world-changing research and teaching at the University of Glasgow.
The appointments include two new posts - Head of Collections and Curatorial and Exhibitions Manager. Two new Curators and two Collections Management Assistants have also been appointed.
Dr Giovanna Vitelli has been appointed as Head of Collections and Curatorial and joins The Hunterian from Oxford having recently wound up the Ashmolean Museum's internationally recognised University Engagement Programme.
Ruth Leach has been appointed as Exhibitions Manager and comes from Leeds City Museum.
Dr Andy Mills joins The Hunterian as Curator of Archaeology and World Cultures and comes from the University of Glasgow's History of Art Department.
Dr Lola Sanchez-Jauregui, currently a project curator at The Hunterian, has been appointed as Curator of Art Collections and will succeed Dr Peter Black when he retires at the end of this year.
Cameryn Clark and Michalina Szymanska have joined as Collections Management Assistants. Cameryn joins The Hunterian from Paisley Museum and Michalina from the Ashmolean Museum in Oxford.
Dr Giovanna Vitelli, Ruth Leach and Dr Andy Mills take up their new posts on Monday 2 September 2019.
Two new Supervisors have also been appointed to the Front of House team at The Hunterian. Clare Graham has been promoted to Supervisor from the existing Front of House team and Emma Nellies joins from a similar position at the National Trust for Scotland.
Hunterian Director, Steph Scholten, said:
"It is with great pleasure that I can announce the appointment of these experienced professionals as new members of Hunterian staff. I am confident that they will make a significant and positive contribution to The Hunterian and I look forward to working with them."
---
Further information
Dr Giovanna Vitelli
Head of Collections and Curatorial
Dr Giovanna Vitelli joins The Hunterian from Oxford, having recently wound up the Ashmolean Museum's internationally recognised University Engagement Programme, funded by the A. W. Mellon Foundation. The programme significantly expanded the academic use of the Ashmolean's collections across a wide range of Oxford's departments, working in partnership with faculty and students to develop innovative cross-disciplinary teaching and research. She also partnered with colleagues at Oxford's Pitt Rivers Museum to open their collections to multi-disciplinary use.
At Oxford she was closely involved in developing the first university-wide online platform for digital study of collections, and at The Hunterian will be committed to making museum collections accessible to university and public users alike. Dr Vitelli, an archaeologist and anthropologist, has done field work, teaching, and research in colonial-period archaeology, indigenous histories, and museum anthropology.
Dr Vitelli said:
"I am delighted to join The Hunterian, which I have long admired as a top tier museum with extraordinary staff and collections. I am looking forward to working with the Curatorial and Collections teams as we develop our potential to be a natural leader in the university museum sector."
Image of Dr Vitelli © David Gowers.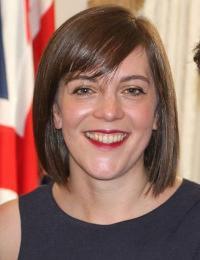 Ruth Leach
Exhibitions Manager
Ruth Leach joins The Hunterian from Leeds City Museum. Ruth has worked in the museums sector for over 10 years. At the National Railway Museum, she was part of the team that reinterpreted Station Hall, a Grade II listed railway goods shed, using theatrical principles to bring the space to life.
As Exhibitions Curator at Leeds City Museum, part of Leeds Museums & Galleries, Ruth was responsible for the varied exhibition programme. She worked with collections curators to create exhibitions which celebrated Leeds' rich collections, and told important stories about the city. Highlights included Roman Empire: Power and People with the British Museum, Skeletons: Our Buried Bones with Wellcome Collection/Museum of London and Tailored: a very British fashion which celebrated the heritage of one of Leeds' main industries.
Ruth said:
"I'm delighted to be joining the team at The Hunterian in this new post and can't wait to learn more about the fantastic collections and programme of exhibitions coming up."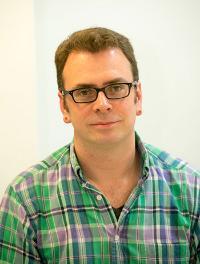 Dr Andy Mills
Curator of Archaeology and World Cultures
Dr Andy Mills comes to The Hunterian from the University of Glasgow's History of Art department, where he has been lecturing on the indigenous arts of Oceania, Africa and the Americas for the past year. Although his previous experience and training span both archaeological and historical material culture from both Britain and all other parts of the world, Andy is a specialist in World Cultures collections of the 18th and 19th centuries.
His own research focuses most closely on the arts of Oceania and the history of World Cultures collections in Britain. Andy has a wide range of research interests, from non-Western textiles to arms and armour, religious imagery to collecting in the Age of Exploration, new developments in stylistic analysis to the cultural biographies of artefacts, as well as the ongoing material legacies of British imperialism and missionary activities.
Before coming to Glasgow in 2016, Andy worked in a diversity of curatorial and collections research roles for institutions such as the Norfolk Museum Service and the University of East Anglia, the Horniman Museum and the University of Oxford's Pitt Rivers Museum.
Dr Mills said:
"I am enormously excited to be taking up this role for The Hunterian; few museums in Britain can rival this collection for its global breadth of world art, or for the time-depth of its collections of Scottish and wider archaeology. Whether I look at the astonishing second-century Roman remains from the Antonine Wall excavations on our doorstep here in Glasgow, the rich collections of Neolithic, Bronze Age and Iron Age material from Orkney and the Western Isles, the priceless treasures William Hunter acquired from the voyages of Captain Cook in the eighteenth century, or twentieth-century Nigerian art works commissioned by the former Keeper Frank Willett, there is huge potential for study and teaching, reinterpretation and presentation to the public. I have a busy and fascinating time ahead of me."
Dr Lola Sanchez-Jauregui
Curator of Art Collections
Dr Lola Sanchez-Jauregui is currently the William Hunter Tercentenary Curator at The Hunterian, where she recently co-curated the exhibition William Hunter and the Anatomy of the Modern Museum (The Hunterian, 2018 and Yale Center for British Art, 2019) and co-edited the exhibition catalogue. She has developed her career in research institutions and museums in Spain, Italy, Ireland, the United Kingdom and the United States.
Lola has co-curated international exhibitions including The Philosophy Chamber: Art and Science in Harvard's Teaching Cabinet 1766-1820 (Harvard Art Museums, 2017 and The Hunterian, 2018) and The English Prize: The Capture of the Westmorland (Ashmolean Museum, 2012 and Yale Center for British Art, 2013).

Her research is focused on 18th-century art from Europe and the United States, with an emphasis on the history of ideas and history of collecting on which she has published extensively and has led international research projects.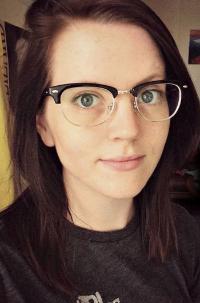 Cameryn Clark
Collections Management Assistant
Cameryn Clark comes from Paisley Museum where she recently completed a year long contract working on the museum's decant. She previously worked on the decant of the geology collection at The Hunterian back in 2017.
Additionally, she has worked at the University of Michigan as an exhibitions assistant and a NAGPRA (Native American Graves Protection and Repatriation Act) intern prior to moving to Glasgow to pursue her master's degree in material culture and artefact studies.
Michalina Szymanska
Collections Management Assistant
Michalina Szymanska joins The Hunterian from the Ashmolean Museum in Oxford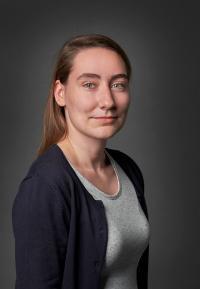 where she worked as Collections Assistant for University Engagement Programme, facilitating cross-collection teaching and research.
Prior to that she worked on digitalisation and cataloguing projects at the Ashmolean's Heberden Coin Room and as an assistant at the Volunteer Service for Oxford University Museums, where she recruited and inducted new volunteers.
Notes to Editors
The Hunterian
The Hunterian is one of the world's leading University museums and one of Scotland's greatest cultural assets. Built on Dr William Hunter's founding bequest, The Hunterian collections include scientific instruments used by James Watt, Joseph Lister and Lord Kelvin; outstanding Roman artefacts from the Antonine Wall; major natural and life sciences holdings; Hunter's own extensive anatomical teaching collection; one of the world's greatest numismatic collections and impressive ethnographic objects from Captain Cook's Pacific voyages.
The Hunterian is also home to one of the most distinguished public art collections in Scotland and features the world's largest permanent display of the work of James McNeill Whistler, the largest single holding of the work of Scottish artist, architect and designer Charles Rennie Mackintosh (1868–1928) and The Mackintosh House, the reassembled interiors from his Glasgow home. glasgow.ac.uk/hunterian
First published: 2 September 2019