Professor Fan Zeng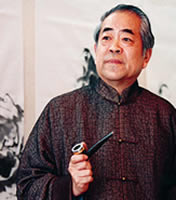 Fan Zeng is one of China's foremost artists working in the tradition of calligraphy, painting and poetry. In China, writing, painting and poetry are considered to be the 'sister arts' and have been used in combination since at least the 10th century. As a contemporary master of these art forms, Fan Zeng's works fuse together elements of landscape, bird-and-flower and figure painting, as well as forms of poetry and calligraphy.
Fan Zeng has a deep passion for traditional Chinese art and his figure paintings are famous for their simple but vivid style and vigorous strokes. Fan Zeng follows in the footsteps of the great painters of the Song Dynasty (AD960-1279), in his use of simple and vigorous brush strokes and dynamic delineation of form. He specializes in the "splashed ink" style of figure painting, characterised by the application of ink washes to define a subject followed by the addition of finer details in darker ink with quick, highly calligraphic strokes. Both require the artist to have the conception of the painting in mind before work begins.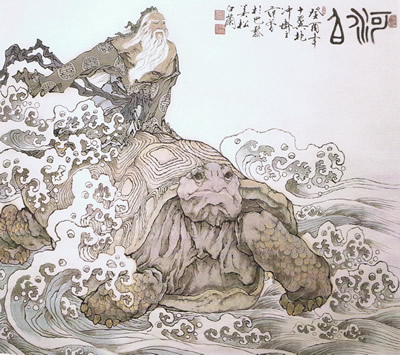 Born in 1938, in Nantong, Jiangsu Province, Fan Zeng studied at Nankai University, and then the Central Academy of Fine Arts in Beijing, where he specialized in art history and Chinese painting. Fan's teachers included acclaimed artists such as Wu Zuoren, Li Keran, Jiang Zhaohe, Li Kuchan, and Liu Lingcang. The ten-year-long Cultural Revolution was a difficult period for him and temporarily halted his creative output, but soon after the Cultural Revolution ended, Fan Zeng's artistic life revived with the creation of the, now renowned, "splashed ink" figure, Zhong Kui, in 1977. For many years he held the position of Professor at Nankai University and Dean of the Oriental Art Department and since 1999 he has held the title of Distinguished Professor at Nankai University. He is a research fellow of the China Arts Institute, an advisor to the College of Chinese Studies of China, Renmin University and to the Academy of Chinese Culture in Beijing University. Fan Zeng has held exhibitions of his work in China, Hong Kong, Japan and Europe and in 2008 he was appointed a 'Special Consultant of Diversified Culture' to UNESCO.