Ladder to the Clouds
Issued: Sat, 13 Oct 2018 20:27:00 BST
‌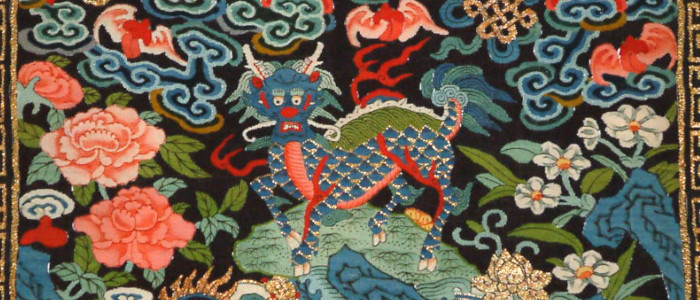 Insignia and Costumes of Power for a Mandarin at the Imperial Chinese Court, 1644-1911‌
Presenter: David Rosier
Date: Monday 28 January 2018
Time: 18:00 - 20:00
Venue: Lecture Theatre, Sir Charles Wilson Building, Kelvin Way, University of Glasgow
Registration: https://www.eventbrite.co.uk/e/ladder-to-the-clouds-tickets-55033142611
This lecture explores the demanding process by which young boys where selected, and sponsored, to take the imperial civil service examinations with the objective of eventually being appointed as a civil official in the court or government of the Chinese emperor. An appointment brought not just considerable honour to the family but great power, and often wealth, for the official. From the point of receiving an imperial appointment to the court, central or provincial government, consideration will be given to the highly complex system of regulated insignia and costume that officials had to wear whilst performing their duties. The construction, iconography and symbolism of insignia of rank, court robes and dress accessorises, together with permissible variations and aspects such as artistic trends, will be discussed. These will then be contrasted with unregulated variations, and abuses of the regulations, which occurred predominantly towards the end of the Qing dynasty. Finally, consideration will be given to the parallel system that existed for military officials in the service of the emperor plus other official positions at court that were required to display an insignia of rank.
David Rosier is a Chartered Insurer by profession and Fellow of the Assurance Medical Society, and was a Committee Member and lecturer for the Hong Kong Textile Society. He is also an Accredited Lecturer of the National Association of Decorative and Fine Arts Societies. He has extensive international experience as an author and lecturer with over 25 years of direct experience of East Asia. Whilst living in Hong Kong in 1990s, David collected approximately 700 imperial-related textiles, insignia of rank and dress accessories, predominantly from the Qing dynasty.
All welcome. This event will be followed by drinks in the foyer.
---