Honouring our Glasgow girl
"The graduation ceremony was one of the most memorable moments in my life. It was so special. I still remember the principal saying we represent Glasgow so we need to be Glasgow. Whatever we do, we need to be ambassadors for what Glasgow is about. I'll always remember that."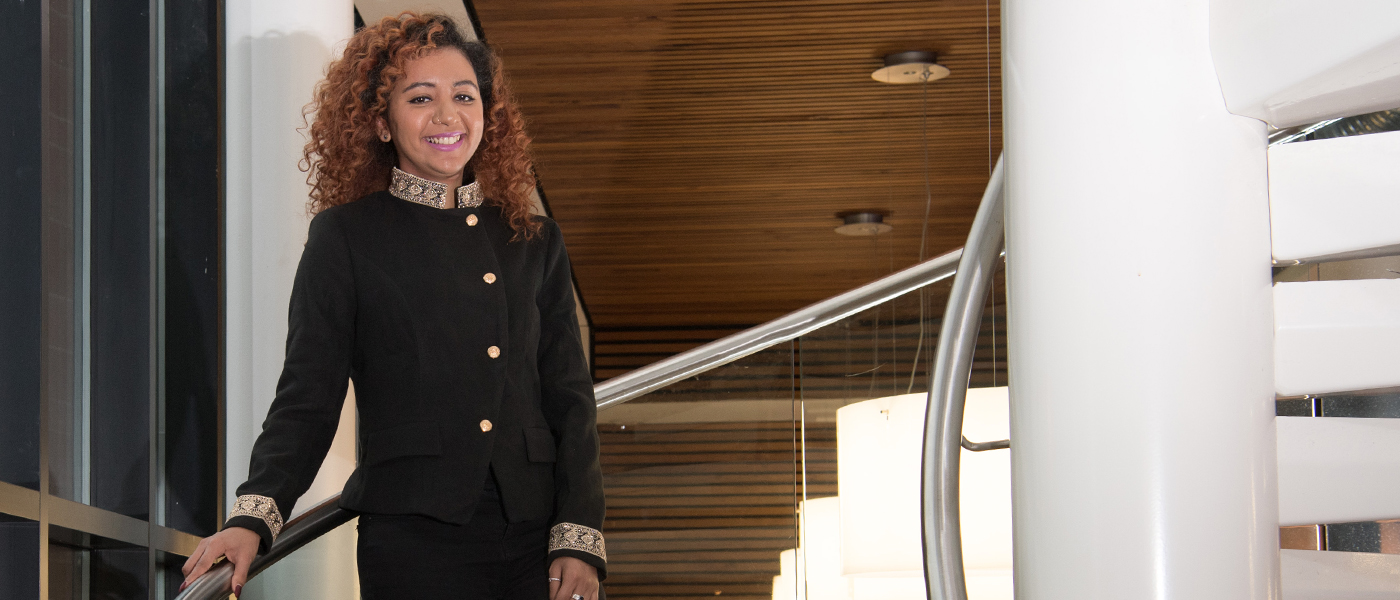 Human rights campaigner Amal Azzudin (BA 2011, MSc 2014) is our World Changing Alumni award winner for 2018. We asked what this means to her.
There's no single conventional route to university for everyone. But the path of Amal Azzudin (BA 2011, MSc 2014), human rights activist and our World Changing Alumni Award winner for 2018, is certainly more unusual than most.
Fleeing a Somali war zone in 2000, she and her mother sought asylum in the UK and were eventually bussed to Glasgow, a place she had never heard of. The seeds of her activism were sown in 2005, when a schoolfriend and her family from Kosovo were dawn-raided and driven to a detention centre in England.
The first campaign
Amal and her schoolmates were so outraged by this that a small group of them, who became known as The Glasgow Girls, began protesting and petitioning, which led to a meeting with then First Minister, Jack McConnell, at the Scottish Parliament.
"I didn't know anything about campaigning, I didn't know anything about politics," she remembers. "I just wanted my friend back." That may have been the case, but the impact of their campaigning forced changes to laws around the detention of children, as well as successfully securing the release of Amal's friend and her family.
The Glasgow Girls' story has featured in documentaries and been turned into a popular musical. "How can you turn child detention into a musical?" she ponders, but it's all about capturing the public's attention and raising awareness, which it has undoubtedly done.
On the right path
Amal was thrilled to get the opportunity to study community development at the University, followed by an MSc in human rights and international politics. "I was so happy," she says, "because I'm the first in my family to go to university. The course taught me so much and equipped me with the knowledge that I needed to continue doing this kind of work."
Since leaving the University, Amal has been working for the Mental Health Foundation, and giving talks in schools, alongside continued campaigning. This has included missions to Greece and Calais where she witnessed the refugee crisis at first hand.
And her reaction to receiving her award? "It means the world to me," she says. "I am super-honoured. I didn't wake up one day and think, 'I'm going to start a campaign. I'm going to have a musical, win an award' … but also, I really want to stress that this award is not just for me as an individual. I see it as a recognition of what I stand for, and what all of us stand for in the world. That, for me, is about standing up for human rights, for doing the right thing, no matter how hard."
About the award
The World Changing Alumni Award is a prestigious annual University honour which recognises and celebrates the achievements of alumni who have made a major contribution to the community, arts, science or business. Formerly the Young Alumnus of the Year Award, it has been presented to a world-changing alumnus every year since 2001.
Nominations for the award can be submitted by anyone, but nominees must have graduated from the University within the last 15 years.
Listen here to Amal being interviewed as part of Sound Tracks, the University's new fortnightly podcast that hosts interviews with some of our world-changing alumni who share their career journeys with you.


This article was first published in December 2018.