SOLASTA Bio
Professor Shireen Davies – From Concept to Company.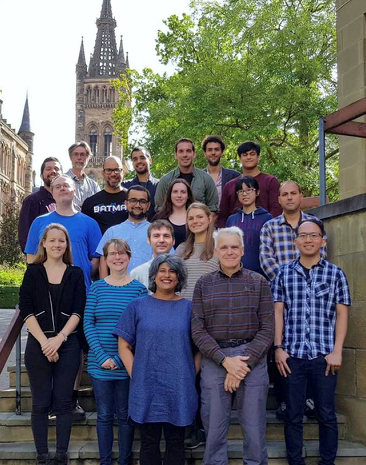 Professor Shireen Davies from the School of Molecular Biosciences is championing a revolution in the creation of novel next generation green insecticides. In May 2020 Professor Davies, Professor Julian Dow and others formed the University of Glasgow spinout, SOLASTA Bio, a specialist green insecticides company which is amongst the first of its kind globally. This company is built upon a foundation of fundamental research, with significant BBSRC Responsive Mode funding and a major multi-partner European project. The formation of the company represents the culmination of 4-year translational research journey, taking fundamental research directly into the applied and commercial sphere, driven by a combination of world-class science, realising opportunities and IMCSB/MVLS support.
This journey to translation has been enabled by Professor Davies working closely with colleagues in the College Innovation and University Research and Innovation teams to access multiple funding and support mechanisms. As a case study, the different elements of support gathered in this translational research timeline is described in some detail, as most of such support mechanism are available to other college PIs seeking to commercialise their research. These are shown in the form of a timeline with commentary from the PI as to process and impact of each step.
Commercial and Scientific background
Global food production faces a dilemma: while 75% of food crops are dependent on pollinator insects, other insects cause enormous social, health and economic damage accounting for at least $70 billion in US crop losses alone. Effectively targeting insect pests while preserving beneficial pollinators in an environmentally friendly and sustainable manner is extremely difficult.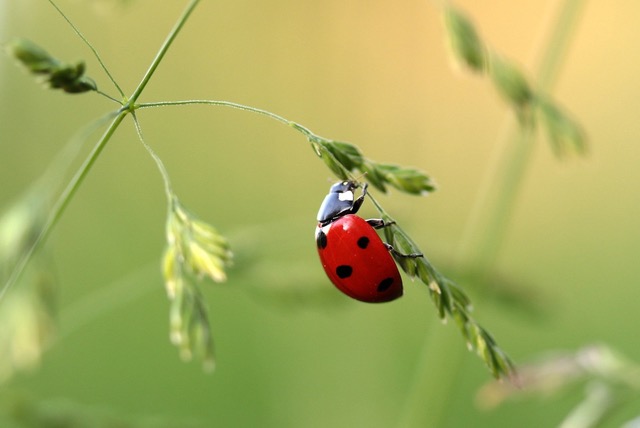 Ladybird (beneficial insect species) taken by Myriam Zilles.
Insecticides are dominated by synthetic chemicals with broad spectrum action accounting for 94% of insect control solutions, with a projected 2022 value of $22 billion. These are mainly rapidly killing nerve or respiratory poisons. However, the sustainability of insecticides is under pressure from widespread insect resistance, lack of species specificity, increasing regulatory controls and consumer preferences for non-chemical residues. More effective products, which have reduced impact on non-target insects including pollinators, are thus urgently needed.
Solasta Bio develops peptide-based bioinsecticides which are efficacious and safe for non-target organisms and the environment, based on insect neuropeptides which regulate essential physiological functions. Disturbance of target physiological processes by peptide bioinsecticides leads to death in pest species.
Key Translational Support Secured and Impact
Translational Award

Value

Purpose

Comments and Impact

BBSRC FLIP award for industry interchange

£50k

2014-16

Interchange with BASF, supported by College

Provided industry experience for PI and knowledge exchange with PI, College and UoG

BBSRC IAA Novel insect control reagents for Food Security

£5K 2016

Initial external market research

Crucial impact in accelerating progress

BBSRC GCRF

£50k 2017-2018

Project with Brazil and industry

Provided opportunities and further commercial links

BBSRC Excellence with Impact - patentability and Freedom to operate

£6K

2017

Patent landscape examination on lead compounds

Indicated that IP generation was possible

BBSRC AgriTech

£21K 2017-18

First technical de-risking study

First AgriTech Catalyst funding for UoG, providing support for 6 projects in Food Security.

BBSRC IAA Major external market research

£12K

2017

Commissioning of major market research

Detailed market report led directly to SE High Growth application

Scottish Enterprise High Growth Spin Out Programme

£150K

2019

Technical de-risking and business plan development leading to company formation

Game changing support which put project on track for company

BBSRC Royal Society of Edinburgh Enterprise Fellowship

£54K

2019

Direct support of and training to academic PI for commercialisation

Outstanding funding and support scheme which equipped PI to form company

BBSRC IAA (II)
Biopesticide Product Development 2020

£10, £20k

2019, 2020

Additional screening of lead compounds

Valuable continued support from college to protect value of IP to date.
Statement from Prof. Davies
The focus of my research has been understanding cell signalling systems in insect models and peptide control of cell signalling and physiology. This has opened up avenues for applied research clearly demonstrated in European-funded nEUROSTRESSPEP multi-actor project with academics and industry, which I coordinated. This project also highlighted the latent potential of peptides, as opposed to traditional small molecule synthetic chemistry as insecticides. Additionally, between 2004 - 2016 we had funded projects with big Ag, investigating novel mechanisms of action which could inform a new generation of insecticides.
The translational potential of our work was very clear from 2015. The issue was how to best take that forward. The obvious, and in many ways easiest, route would be simply to do a deal with an Ag-Tech major such as BASF, Bayer or Syngenta and licence the new compound to them, supplemented by contract research on novel mechanisms of action. However, this would result in relatively little of the eventual value of the research knowledge built up over many years being retained in Glasgow or probably the UK. The concept of forming a spin out company as for further translational research and eventual commercialisation to retain more value in Scotland was born then.
With a more focussed drive towards translation and a closer working relationship with the then College Business development (now Innovation) team, further support was obtained from BBSRC Impact Accelerator and Excellence with Impact. Together, these grants allowed some technical de-risking of the technology, support to examine the patent landscape towards filing early IP and finally supported commissioning of independent market research. Collectively the outputs of these three activities convinced us and the college that there was real commercial potential in this idea.
The spinout idea was floated based on the portfolio of research technologies we exploited, and our data with the university but focus was the key to developing this idea further; so this was revisited with MVLS Entrepreneur in Residence (Eir). These conversations also identified a one-off BBSRC institutional funding stream for AgTech translational research, which the EiR and I successfully bid for, raising 120K supporting 6 mini-projects within the College. A small proportion of this AGtech funding was allocated to supporting translational research to forward peptide-based approaches for insecticides.
The application process for Agtech, IAA and EWI funding competitions is not onerous, consisting of a short 2 pages application with clear guidelines. Progress through selection was straightforward, with efficient release of funding and flexibility when timelines required change. Reporting and feedback requests at end of project were reasonable. With the exception of the AgTech Catalyst funding, these translational mechanisms are all available to college staff and very efficiently administered by Chris Mort and his colleagues. In fact, both the levels of funding and degree of support have recently increased reflecting continued success in the college accessing these institutional funding streams at a national level. I would strongly recommend them to any colleagues seeking either advice or support on an early translational project.
For us, this combined funding support and business development support was crucial in the next step. Collectively, these small funding sources and the support of the business development team provided the key evidence of a route to market, technical feasibility and protectable IP that enabled a successful application for SE High Growth Spin out Programme (HGSP) grant. This is dedicated support for pre-company formation development which also brings in critical support and engagement with Research and Innovation Services acting as the Technology Transfer Office centrally within the college.
SE HGSP support, now called High-Growth Innovation, is an excellent scheme whereby a pre-company spin out commercialisation project can gain in principle up to £400K non-dilutive grant funding to lay the foundations for company formation - including appointment of a "commercial champion" for the business. High-Growth Innovation is a highly competitive funding scheme but was efficiently supported by the college and RIS. The post award process including due diligence, presentation to SE panel and monitoring by SE is much more time consuming and detailed relative to internal college funding, or UKRI research grants. However, the support has been critical for developing the business model and recruiting commercial expertise for SOLASTA Bio. Apart from the non-dilutive nature of the funding (i.e. Scottish Enterprise does not take an equity stake) the other major advantage of this support is that it gives the prospective new company and the founders independent validation of credibility.
This credibility, with a track record in BBSRC-funded research were instrumental in allowing me to successfully gain a BBSRC Royal Society Enterprise Fellowship, providing salary buyout to time on the company. Entrepreneur training has also allowed development of a compelling draft business plan with SE, which has led to substantive discussions with a VC groups for seed round investment in 2020.
Competition for Enterprise Fellowships is fierce requiring a highly developed and detailed business case. The Fellowship support and business training associated with it has been superb but requires significant time commitment by the Fellow. As with SE HGSP I would strongly recommend this exploring this as a funding avenue, for all levels of researcher, but only with a very well-developed proposition.
In summary, my experience and that of others in the college, has shown that there is a pathway for translation which includes valuable technical IP and market research outputs from college internal funding schemes such as BBSRC IAA and EWI (for clinical projects - MRC Confidence in Concept).
Where appropriate they can allow PIs to access SE High Growth Innovation and/or RSE Fellowship as two proven and prestigious funding streams to allow company formation as potential alternative to simple licensing of technology to larger corporate partners.
It requires a great deal of cumulative work to sequentially access multiple funding streams; however, there is excellent support within the Institute, College and University for this.
This project has been supported by both internal and external funding sources. Early stages of the project were supported by BBSRC IAA, as well as FLIP funding and Industrial partners. In following years, the team successfully received the BBSRC Excellence with Impact award, and were further supported by the BBSRC GCRF, IAA and the AgriTech Catalyst funds. Finally, the research group received a further BBSRC IAA, as well as a Royal Society of Edinburgh Research fellowship and the Scottish Enterprise spinout programme that lead to the spin-out of SOLASTA Bio in 2020.
INTERNAL FUNDING