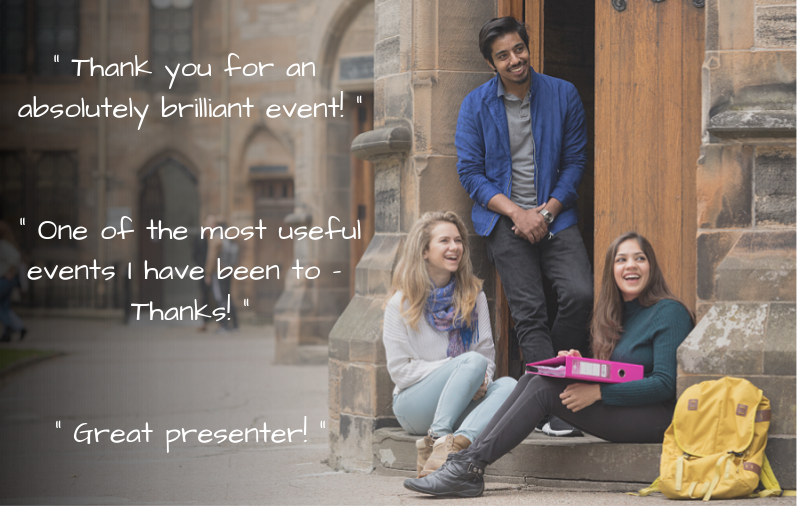 ‌
Alternative PGR Career Events
There's more to life than research! The MVLS Graduate School hosts a series of seminars and events which feature throughout the year.
This career event programme brings in guest lecturers from a range of sectors, from academia to industry, focusing on career progression and alternative opportunities.
All PGR students from MVLS receive 1 credit for attending these events.
Have you signed up for one yet? Check below for the next one....
**2018-19 programme has now completed. Look out for the new programme of events coming autumn 2019!
Dr Sarah Morgan - A Career in Industry So Far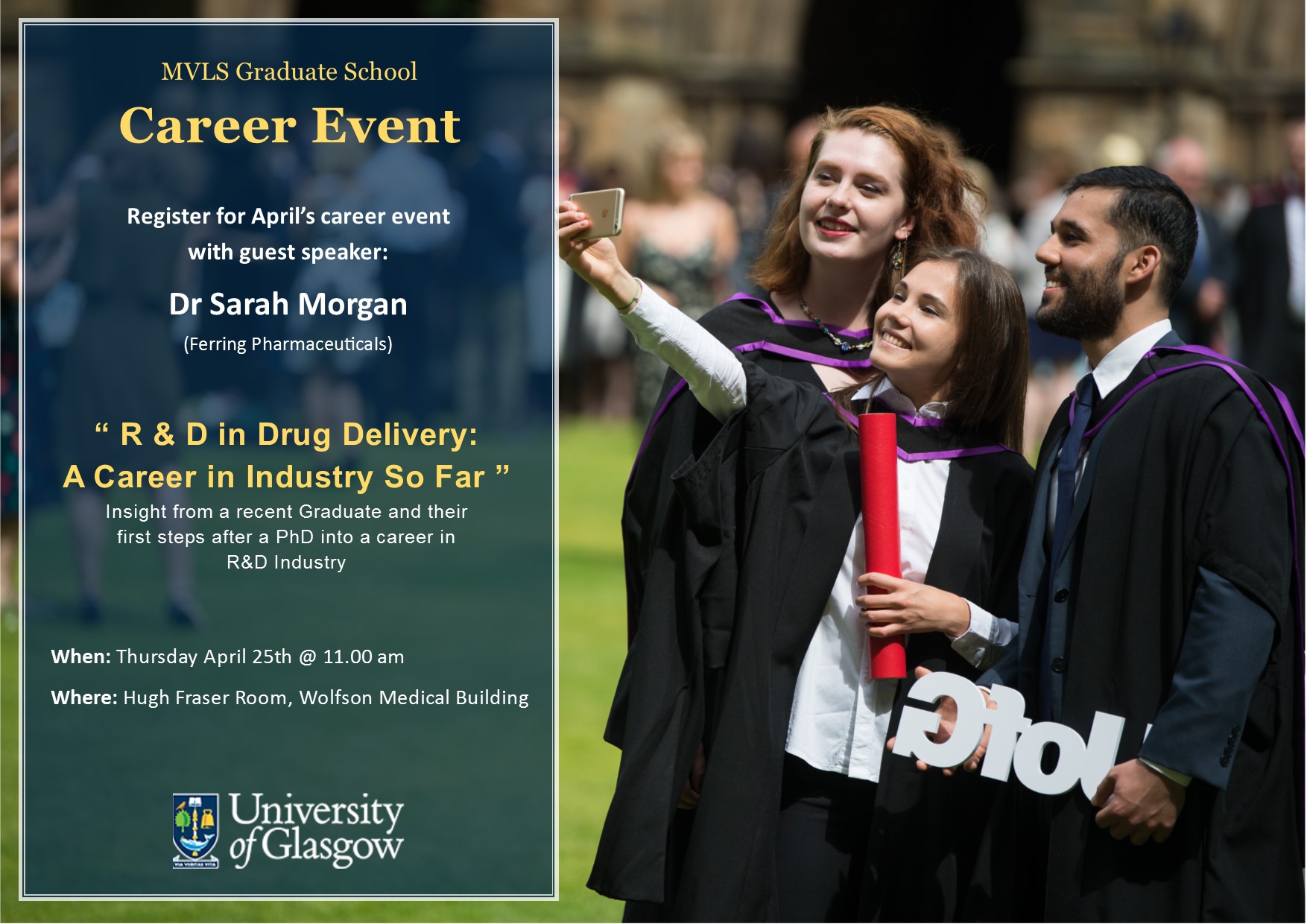 Dr Ian Salt - Developing Independence as a Scientist
Video of this talk can be viewed here
Slides are available below:
Dr Robin Hoyle: How To Get a Job in Science Communication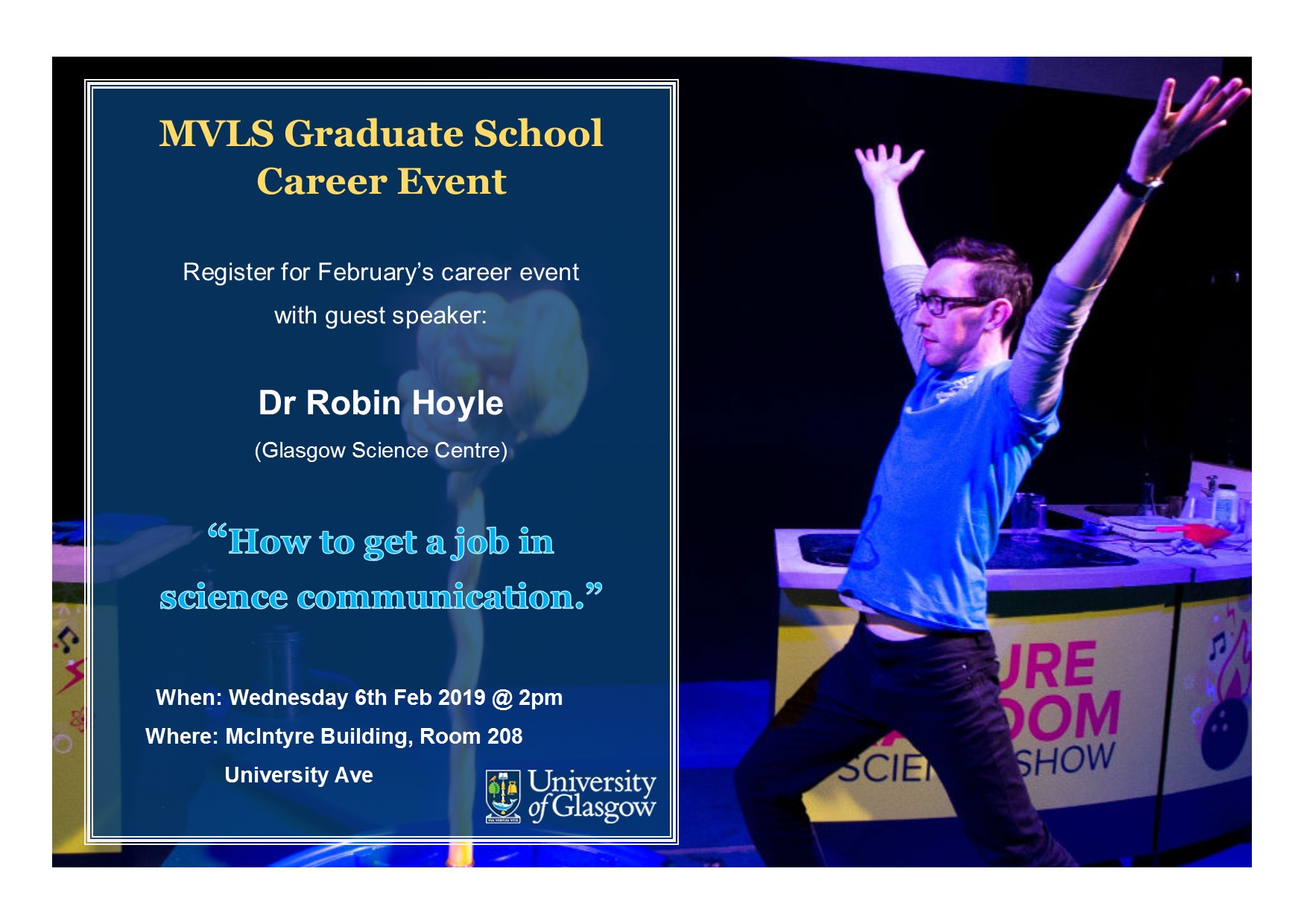 Dr James Leiper: The Discovery of New Sepsis Medicines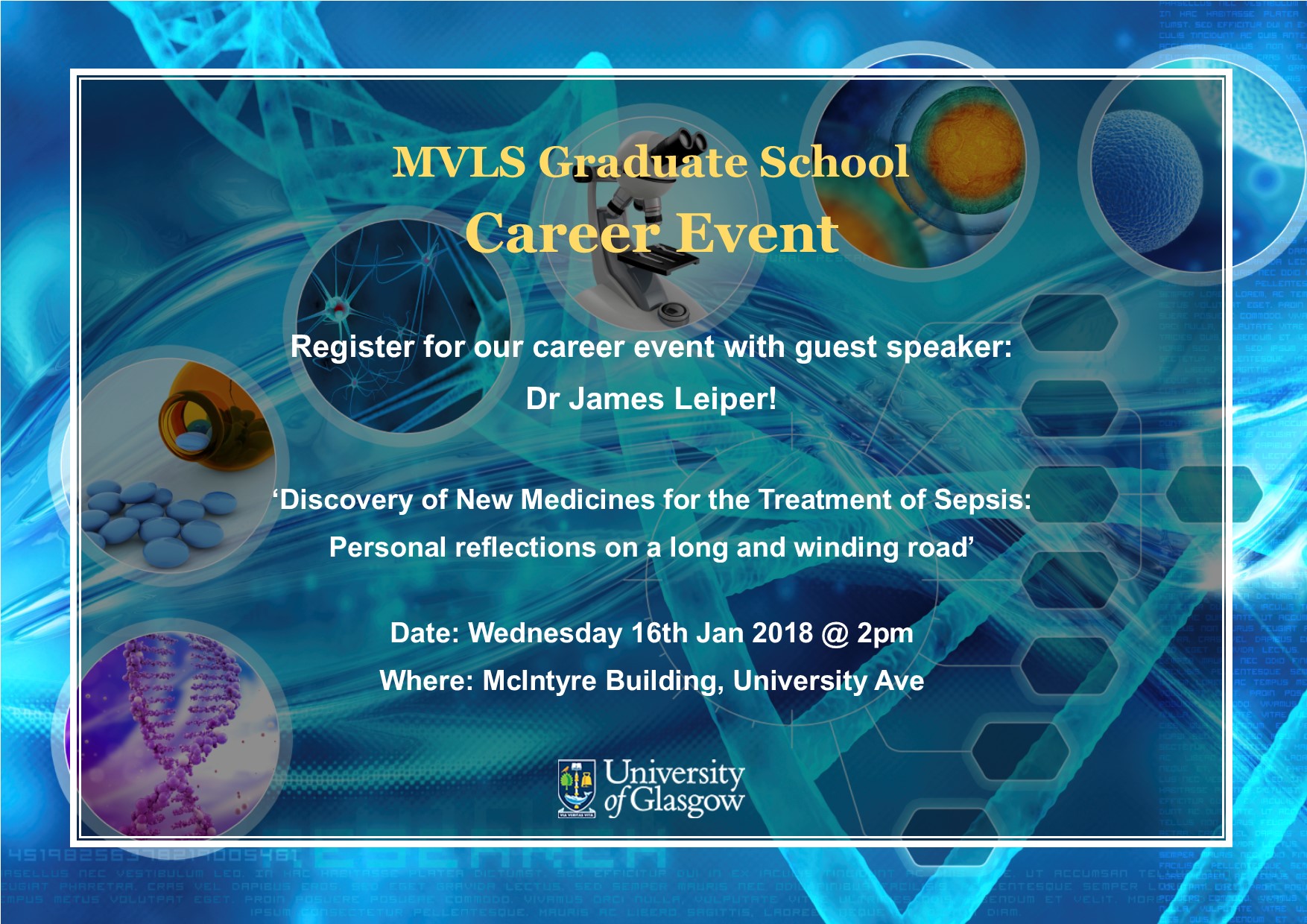 Dr Clara Orofino: Becoming a Patent Lawyer
Career slides are available below if you missed the talk:
Presentation Slides - How to become a Patent Lawyer
Dr Iain Moore: A Career in Secondary Science Teaching
‌
Date: Wednesday 21st November 2018
Time: 2.00-3.00pm
Speaker: Dr Iain Moore, Head of Physics at St Columba's Senior School
Title: "A Career in Secondary Science Teaching"
Venue: Wolfson Medical Building Seminar room 2—Hugh Fraser
Dr Tim Dowse: From Behind the Bench to Behind the Scenes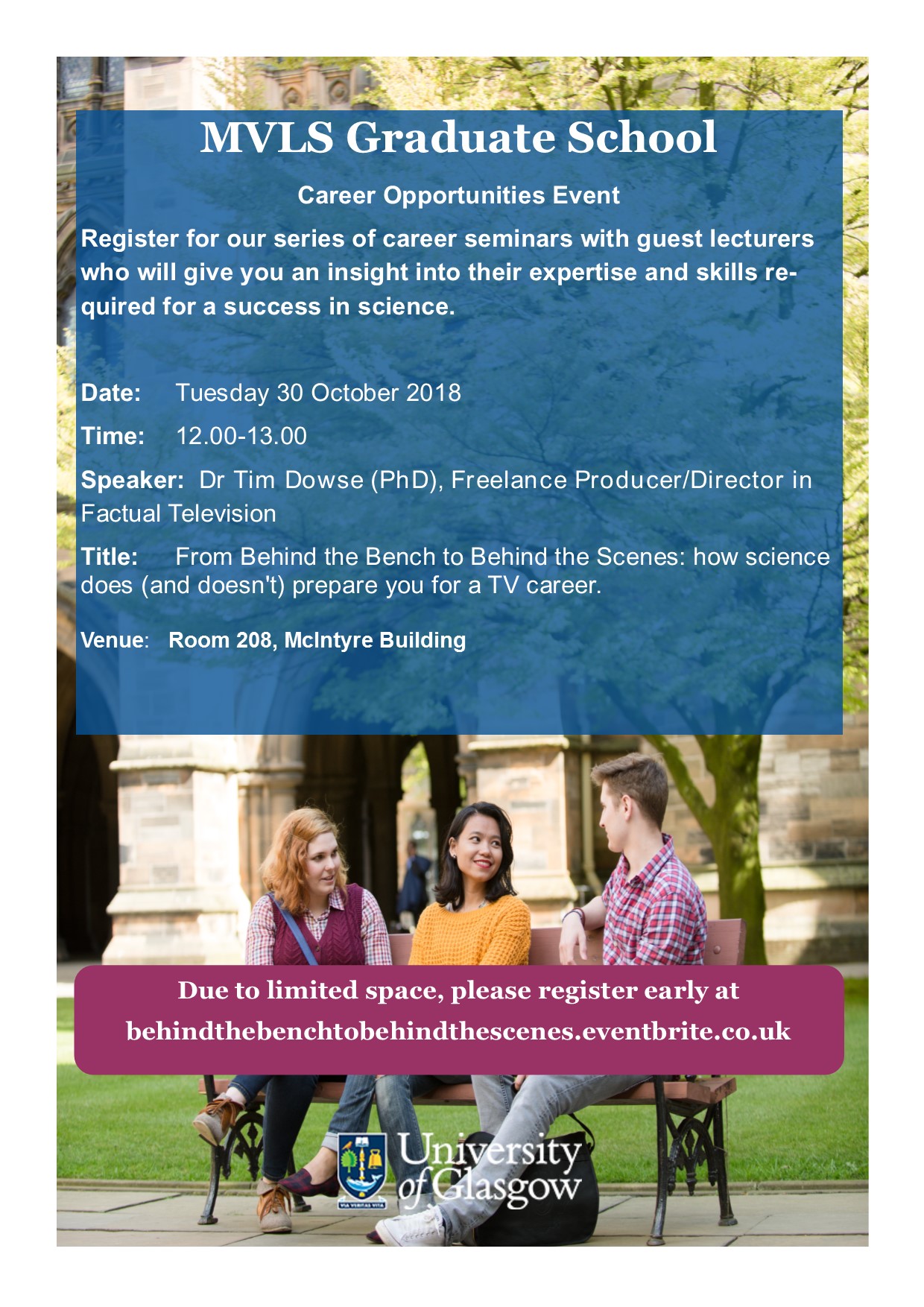 Dr Robin Hoyle - I want to be a Science Communicator
Title: I want to be a science communicator
Date: Tuesday, 17 April 2018
Time: 13:00 - 14:00
Location: Room 330 (Gloag), 5 The Square
Dr Robin Hoyle has been part of the Glasgow Science Centre team since 2000, evolving from a science communicator delivering science in classrooms across Scotland, to leading the in-house education programme to his current role as Director of Science.
Robin is ultimately responsible for developing and delivering Glasgow Science Centre's science strategy and fulfilling its charitable mission to inspire people of all ages to discover and enjoy STEM. Robin oversees the Exhibition Development, STEM Learning, On Tour and Public Engagement teams.
Jane Salmonson: Opportunities in the Third Sector (Overseas)
Jane Salmonson, Chief Executive, Scotland's International Development Alliance delivered an interesting talk on her career path. The membership organisation for all those engaged in international development in Scotland. Glasgow University is a member, through the Glasgow Centre for International Development (GCID). Jane joined the international development sector in 2000, and before joining Scotland's International Development Alliance as CEO in 2015, she worked for Mercy Corps, L'Arche and CBM.
Alice MJ Gee: Research Support as a Career
Although never having anticipated working in the job the she now does, Alice Gee knew that she wanted to use her skills, understanding and knowledge in science in a communicative and team-building environment. Alice spoke about her journey from lab-based research in the field of molecular biology and rheumatology to her current role as Policy & Business Intelligence Manager with the College of MVLS, University of Glasgow. Alice's story demonstrated how building on experience gained in different sectors could lead to a job that you love, but may not have considered previously.
Mike Gazeley: Science Told Well: A Career in Medical Communications
Dr Megan Dowie: Working for the MRC