Reach 09 - Set In Stone: Future Thinking on Carved Stones in Scotland
‌Stèidhte sa Chloich: Beachdan air Clachan Snaidhte ann an Alba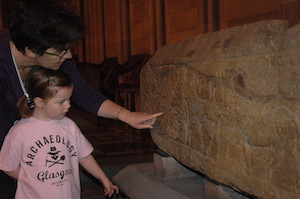 In Scotland, carved stone monuments are all around us. They shape our sense of place and identity, and tell us much about past peoples, their identities, beliefs, tastes, technologies and lives. But how would you classify carved stones? While many still stand in the landscape as monuments, often they are or have become portable (in theory if not always in a practical sense!) yet they are not readily thought of as artefacts. Katherine Forsyth, a Reader in Celtic and Gaelic, argues that carved stones tend to fall through the cracks when it comes to protecting and preserving our heritage.
Forsyth is part of the National Committee on Carved Stones in Scotland, whose membership includes representatives from various government and heritage organisations, such as Historic Environment Scotland, alongside academics. The Committee is dedicated to the conservation, study and promotion of Scotland's carved stones. To help move carved stones up the national agenda, the Committee has launched 'Future Thinking on Carved Stones in Scotland.'
As Forsyth points out, the term 'carved stones' covers a huge range of different types of stones, beginning with prehistoric rock art (cup-and-ring marks) and the Roman distance slabs from the Antonine Wall, which are held in the Hunterian Museum at the University of Glasgow. The term also describes the high crosses from Iona, such as the one shown on the front cover, and Pictish stones. It can refer to architectural tombs from the Middle Ages and headstones you might find in a graveyard today.
What these stones have in common is the techniques used to carve them and their vulnerability. Stones from every period can be damaged by the environment, from neglect and even vandalism, particularly sandstone, which is common in Scotland. Furthermore, legislation is variable and often weak in offering protection from most threats.
So Dr Sally Foster, the Principal Investigator from the University of Stirling, and Dr Katherine Forsyth, the Co-Investigator, launched a project which aimed to publish the Future Thinking on Carved Stones in Scotland: A Research Framework. With financial support from the Royal Society of Edinburgh and the Society of Antiquaries of Scotland, the project launched in February 2015 in an attempt to link, inspire, mobilize and direct the efforts of all of those with an interest in or responsibility for carved stones'. There are a number of organisations such as the National Trust for Scotland, national and local museums, Forestry Commission Scotland, Historic Environment Scotland, local authorities, the Church of Scotland, and some private owners, who are responsible for the care of carved stones. One of the aims of the project was to organise workshops that would connect these stakeholders and help them think more strategically about the opportunities and challenges that carved stones present. The workshops allowed Forsyth and Foster to take stock of existing and ongoing research activities and to identify priorities for future research.
Together with co-authors Dr Susan Buckham (University of Stirling) and Dr Stuart Jeffrey (Glasgow School of Art) they produced a Scottish Archaeological Research Framework for carved stones. The document includes an extensive bibliography of over 1300 works relating to carved stones in Scotland, and forty or so case studies showcase the diversity of current research in Scotland. The framework can be consulted on-line (www.scottishheritagehub.com) and its online wiki structure means any reader can add comments and ideas.
Effective care for carved stones relies on sharing information and best practice, utilising new technologies where appropriate (e.g. emerging digital technologies which can assist with recording, replicating and monitoring decay). Above all, however, effective care depends on improving our understanding of stones and their value to us as individuals and as communities.
In terms of public impact, protecting and promoting carved stones can be beneficial to local communities and organisations. They draw heritage tourists and provide a boost to the local economy. Cultural heritage is also a key tool of urban regeneration, which has been evident in Govan. The area, in the city's south-west, faces a number of social challenges, but it is also home to the Govan Stones (see Reach 05). This collection is housed in Govan Old Church and features over 40 intricately carved stone monuments and hogback stones from the 9th to the 11th century. Forsyth believes displays of cultural heritage, like the Govan Stones, can give residents a different sense of the place and their own identities and of the diversity of peoples who came and settled in Govan in the past.
The 'Future Thinking on Carved Stones' project has shown just how much carved stones can tell us about both the past (their historical context) and the present (social value, national and community identity).
Clearly this is a rich resource, but in order to fully understand the stories the stones have to tell we need to ask better questions, and that is what the Framework seeks to provide. The Committee hopes that it will equip all who care about Scotland's carved stones to ensure that they are properly valued and looked after for generations to come.
'Future Thinking on Carved Stones' is available at: www.scottishheritagehub.com/
For further information about The Govan Stones: http://www.thegovanstones.org.uk/
If you'd like to find out more about carved stones, or if you'd like to develop or support a project with an academic in Celtic and Gaelic, please contact us at arts-ke@glasgow.ac.uk
---
---
If you wish to find out more about this article or about how you can progress your ideas (i) as an academic wishing to engage with a non-academic organisation or (ii) as a non-academic organisation interested in engaging with the academic knowledge base, please email the College of Arts KE Team.
<<Back to Reach 09