Reach 09 - Making Soundwaves: Developing Parat+
‌A' Dèanamh Thuinn-Fhuaime - A' Leasachadh Parat+
Creating sound using computer technology is just like playing a musical instrument, according to Nick Fells. Whilst computers provide musicians great opportunities for creating and controlling sound, they also present constraints and limitations just like instruments – as any musician will recognise from learning to play. Fells is a composer and a Professor of Sonic Practice in the Subject area of Music who has been making electronic music since he was a teenager. As a classically trained flautist and composer, he found that he spent most of his years as an undergraduate music student trying to reconcile his love for playing with synthesizers and tape recorders with the more classical elements of his musical education.
It was this passion for recording sound and creating electronic music which led Fells to meet musician and software developer Sebastian Lexer, who shared his interest in computerised sound. Fells contributed to the design of software being developed by Lexer of Incalcando, a creative technology studio in Glasgow, to improve electronic performance capabilities. The idea was to exploit the recent ubiquity of touchscreen technology, in this case the iPad, to create a music interface which is both flexible and adaptable and accessible for live performing musicians. What makes the software so user friendly is that it allows musicians to control several devices quickly and easily through simple multi-touch gestures and with just one interface.
The software is an app for iOS called Parat+, which Fells and Lexer describe as a 'virtual "fader box" with which you can record, remap and set the controls instantly and intuitively.' It can also adapt to other controllers and networks to enhance not just sound, but other elements of live production such as lighting or stage control.
Whereas many of the hardware interfaces currently available can be relatively complex to make work in particular setups, Parat+ will be downloadable to any and multiple iOS devices and gives a flexible, intuitive interface to meet a range of performance needs. Fells' contribution included working on an additional interface layer which adds control capabilities for playing multichannel or binaural surround sound. He admits that Parat+ is not a solution to all of the issues which performers and designers of music software face, but it's incredibly useful and addresses a gap in the industry: the need for tools developed by artists for artists.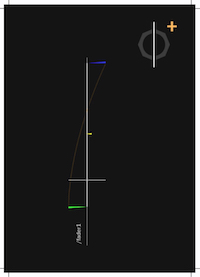 In June 2016 Parat+ was exhibited as part of the Market Lab at Sónar +D, the adjunct trade fair and conference for the Sónar Festival in Barcelona. Sónar itself is an annual electronic dance music festival which draws huge audiences of around 100,000 visitors. The trade fair attracts well-known and lesser-known artists and companies who are actively seeking out the most up to date research and development in the field. Fells and Lexer's stall at the trade fair enjoyed a constant stream of visitors trying out the app for themselves, with multiple iPads and binaural headphones set up to demonstrate the 360 degree surround sound aspect.
The app received interest from a wide range of individuals and organisations, from experimental sound artists and radio producers, to the CEOs and CTOs of some of the big audio software companies. From the feedback received, it seems Parat+ will offer something genuinely new to the market. Although the app is yet to be released, Fells is very optimistic that performers will enjoy using the software. Ultimately, the aim of Parat+ is to optimise sound control capabilities for performers, stage designers, studios, theatres and venues. He hopes that the new ideas embodied in the app will provide a model for future innovations and will open up yet more opportunities for sound artists, sound designers and composers.
The app still has to be fine-tuned, but excitement is already building for the upcoming release. Fells encourages anyone who has an interest in MIDI controllers, music software, theatre production or lighting, or even a general interest in electronic music and sound to visit the website at http://apps.incalcando.com/‌. If you would like to obtain a free pre-release version of the app, contact us to volunteer as a beta tester; then you will be able to download Parat+, integrate it into your setup, and let us know what you think. Parat+ will be available to the public soon through Apple's App Store.
If you'd like to find out more about this project, of if you'd like to develop or support a project with an academic from the Music Department please contact us as arts-ke@glasgow.ac.uk.
---
---
If you wish to find out more about this article or about how you can progress your ideas (i) as an academic wishing to engage with a non-academic organisation or (ii) as a non-academic organisation interested in engaging with the academic knowledge base, please email the College of Arts KE Team.
<<Back to Reach 09