Reach 08 - The Future of Ruins: Reclaiming Abandonment and Toxicity on Hashima Island
Tobhtaichean san Àm ri Teachd: Ath-Bhuannachadh Thoglaichean Bàna agus Puinnseanachadh air Eilean Kashima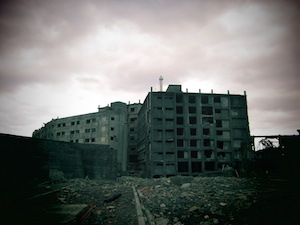 You might recognise images of Hashima (端島), the eerily deserted island which served as the villain's stronghold from the James Bond film 'Skyfall.' The island is essentially a crumbling housing estate lying abandoned in the middle of the South China Sea. Professor Carl Lavery feels like Hashima represents a classic example of what he calls 'ruin porn,' meaning a ruin we can gaze at from a digital distance, appropriate and easily forget. Lavery and his collaborators are interested in how we can change the way that we represent ruins so that we can engage with a sense of its time and history, as opposed to looking at it as some timeless aesthetic object devoid of people.
The ruin of Hashima inspired a cross-disciplinary project funded by the AHRC 'Care for the Future Scheme' in 2013 to explore the spaces and temporalities of Hashima, to give it a sense of history through a variety of creative responses. Lavery is a specialist in performance with a particular interest in looking at cities, architecture and ruins from an ecological perspective. Lavery's collaborators come from a broad range of academic and arts backgrounds including geographers, filmmakers, cultural historians, East Asian studies specialists, earth scientists and fine arts. Lavery and the team travelled to the island to make a short-film with accompanying text, which has been screened in Argentina, Japan, the USA and in many venues in the UK. The film, made by the artist Lee Hassall, was designed to encourage viewers to use their imaginations and engage with Hashima and how it has changed.
There is a key economic reason why the island was left to go to ruin, which Lavery thinks we can learn from, especially with respect to pressing issues to do with toxicity and climate change. Hashima had once been one of the most densely populated places on earth. It had been created for the coal mining industry in the twentieth century, but when the bottom fell out of the coal market and Japan shifted to nuclear provision in the early 1970s, the island was abandoned within months to crumble and degrade. Ironically, the Tsunami that destroyed the nuclear processing plant in Fukushima in 2011 highlights the fragility and precarity of Japan's energy policy, and Fukushima now stands as Hashima's toxic double. There is an ecologically disastrous' feel to both locations. These shifts in the temporality of the island are a fundamental part of its history, which can easily be forgotten when one simply gazes at the crumbling tower blocks. Indeed, the more one reflects on its history, the more Hashima appears as a portent for our future – it shows what is left when the earth is simply seen as a site of pillage and extraction.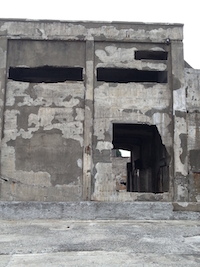 Another aim of the project has been to encourage debate over our relationship with heritage and ruins. The team organised a public study day at the Glasgow Centre for Contemporary Arts in September 2016 that was attended by over 200 people. Representatives from Glasgow Museums, the Glasgow School of Art, and architects involved in restoration projects throughout the city were also invited. So, too, were Angus Farquhar, the creative director of the performance company NVA, Chris Leslie, the Glasgow documentary filmmaker and photographer, and Scott Myles, the visual artist who has worked with the ruinous archives of avant-garde thinker and artist Guy Debord. Stephaniede Roemer from Glasgow Museums was fascinated by the project because, for her, ruins are not picturesque castles in the countryside, but are a part of our crumbling urban landscape here in Glasgow. There were debates on ecology, representations, futures, modes of curation, architecture and heritage, and pedagogy.
An important aspect of the debate centred on what the 'future of ruins' team thought should be done with the Mackintosh building at the School of Art, which was partly destroyed in a fire in 2013. There was some debate on whether the building should be restored to an exacting standard, or whether leaving some evidence of the fire damage could offer a sense of the building's continued history, its reality as a receptacle for events.
The ultimate goal of the project is to think about how communities can engage with their heritage as a living process, and not simply see it as fixed and permanent, an example of 'ruin porn.' Lavery believes we might have a more dynamic, ecological and historically accurate view of heritage if we see it as going through perpetual change and metamorphosis. It became apparent throughout the day that this way of thinking has much in common with that of NVA, whose new performance piece Hinterland will take place in the ruin of St Peter's Seminary in Kilmahew, Cardross in March 2016. To find out more about the Future of Ruins project and the range of creative responses to Hashima visit the Hashima blog.
---
---
If you wish to find out more about this article or about how you can progress your ideas (i) as an academic wishing to engage with a non-academic organisation or (ii) as a non-academic organisation interested in engaging with the academic knowledge base, please email the College of Arts KE Team.
<<Back to Reach 08