Reach 08 - Build n Burn | Tog is Loisg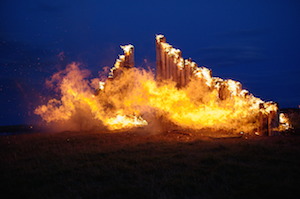 Dr Kenny Brophy's perspective on his own place within the field of archaeology admittedly perplexes some of his colleagues. Brophy's research is largely concerned with prehistoric monuments from the British Neolithic period, and yet rather than referring to himself as a 'prehistorian,' he considers himself a 'contemporary archaeologist' with an interest in the traces of prehistory and how it is used in the modern world. He is particularly interested in how the prehistoric past can have an impact on peoples' lives today.
That's why Brophy began a collaborative project with Dr Gavin McGregor at Northlight Heritage, and a Corinna Goeckeritz a National Trust forest ranger at Brodick Castle on Arran to organise a prehistoric festival. The festival took place on Arran in the summer of 2013, and it involved designing and building a huge Neolithic style timber circle. The circle was built specifically using Forestry Commission timber, and it took the team a full week to construct the monument. Then they burnt it down. Now, whilst this may sound extreme, the burning of the monument was not just a spectacle for festival-goers, the burning mirrored prehistoric rituals and so the burning was accompanied by a talk from Brophy on the meaning and purpose of these monuments in prehistory.
McGregor believes that; 'Through fiery performance, our Build N Burn approach is designed to engage a wider audience in co-production of memorable events. By actively exploring how sites may have been built and used, through the associated experimental archaeology activities, we also create opportunities for informal learning about archaeology and heritage.' Building upon the success of the first festival on Arran, Brophy was keen to build upon the idea of creating events which could transcend the traditional learning experience, engaging the audience in a memorable spectacle, whilst also sharing ideas about Neolithic life and archaeology.
A second, larger ticketed evening event was held in 2014 which included a 'Walk with the Shaman' journey from the Arran shoreline to the timber circle site. This time the monument and pyre burning was also accompanied by all sorts of performance, even opera singing. In 2015 they took the 'build 'n' burn' performance idea to the next level in Caithness as part of a festival celebrating of the 150th anniversary of Scottish archaeologist Joseph Anderson's first excavations in the area. In collaboration with Cara Berger from Theatres Studies, and Brianna Robertson from the Music Department, a three hour long performance was scripted and choreographed around the building and burning of the monument. The performance itself was based upon the timber monument designed Gavin McGregor and based on the stone Neolithic monuments discovered around Caithness. This performance was exciting blend of theatre, archaeology, music and of course, there was fire.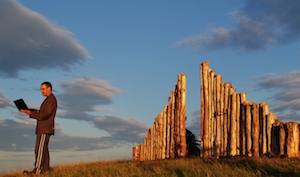 The festivals have proven hugely popular in local communities, but Brophy now questions how they could actually evidence the impact of these events on spectators. For instance, do the spectators remember what they learned about some of the mysterious and strange qualities of Neolithic life, or do they simply remember being impressed by an enormous burning pyre? The team are keen to broaden the scope of these events to include more interactive learning experiences, such as offering prehistoric skills and crafts workshops. Another future plan is to try and organise a build 'n' burn event in an urban setting, instead of the countryside. Brophy believes these events can have an impact on local communities beyond simply exchanging knowledge based on academic research. He argues that such an unexpected and exciting prehistorical festival could bring visitors and boost the local economy too.
If you would like to support or to become involved with an archaeological 'build 'n' burn' event in the future, email Dr Kenny Brophy.
---
---
If you wish to find out more about this article or about how you can progress your ideas (i) as an academic wishing to engage with a non-academic organisation or (ii) as a non-academic organisation interested in engaging with the academic knowledge base, please email the College of Arts KE Team.
<<Back to the College of Arts Newsletter July 2016
<<Back to Reach 08