Reach 08 - Building Hero's Theatrical Automata
‌A' Togail Automata Tèatraigeach Hero‌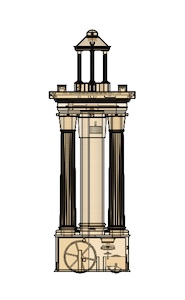 A collaborative endeavour between the School of Humanities and the School of Engineering might seem surprising in and of itself, but a joint project involving a treatise from the 1st Century CE, theatrical performance art and robotics – now that's almost unheard of. That is exactly what Dr Isabel Ruffell and Dr Euan McGookin are currently working on, as part of a three year research project funded by The Leverhulme Trust. Dr Ruffell is a Senior lecturer in Classics and a specialist in ancient drama in particular, and it was whilst scouring a 'decaying' edition in the Glasgow University Library that he came across Hero of Alexandria's treatise on the making of automata. This discovery inspired Ruffell to embark on research into the history of science and, now, ancient robots.
Hero of Alexandria was an ancient Greek writer of technical and mathematical writer, and in the treatise he offered instructions on how to build two types of automata. These were early examples of 'robots,' meaning that they were machines which could power themselves by a system of falling weights which drive axles. Ruffell says that very few writers reference those automata powered by weights, but there were two types: mobile and static. Even more interestingly, these robots were in fact theatrical and thought to have been used as a form of public entertainment in ancient times. The static automata is much like a puppet theatre, with figurines, scenery and props driven by axles. Whereas the mobile automata can apparently travel by itself, and according to the treatise, has sound effects, pyrotechnics, and rotating figurines which can even pour wine!
The aim of the project is to design and build the theatrical automata using the instructions written by Hero himself, which should take an estimated two years. The two automata will be designed using the 3D CAD package called 'SolidWorks,' which will then be sent to the university's engineering department to be built. There are some health and safety concerns, as one might imagine with ancient instructions for a robot which generates fire, but Ruffell insists that his partners in engineering have been very 'tolerant' so far. Ruffell and McGookin are keen to experiment with what they can do with the performance by creating different effects and movement patterns. Another future step they're keen to take is to enlist the expertise of puppeteers to make more of the figurines,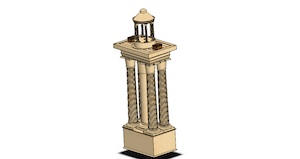 Although this project is still in the design stages, the pair are already looking ahead to the next stage, which is to see how audiences actually engage with the automata as a piece of performance. Ruffell has suggested that they would like to take the automata to schools, galleries, theatres and perhaps even the Glasgow Science Centre. They might also reach out to amateurs online who have tried to build their own automata, without the aid of a university engineering department, to discuss their experiences. At some point they even hope to scale down the design model to make it suitable for a 3D printer, so that people can build their own.
The ultimate goal of the project is not simply to design and build two working theatrical automata. Ruffell sees it as 'trying to uncover a type of performance that is very poorly understood.' We might learn about how it was used, and for whom was it designed to entertain. He also believes that Hero's designs could help us to understand more about the development of ancient technology which went on to inspire further treatises on miraculous devices in Islamic societies, and then of course, Da Vinci's automata from the Renaissance era.
They are currently looking for those who would be interested to have the automata perform for them, and offer some feedback on their experience. The team are also keen to engage with those from a performance background who would like to experiment with using the automata once built.
If you'd like to find out more about automata please contact Dr Isabel Ruffell.
---
---
If you wish to find out more about this article or about how you can progress your ideas (i) as an academic wishing to engage with a non-academic organisation or (ii) as a non-academic organisation interested in engaging with the academic knowledge base, please email the College of Arts KE Team.
<<Back to Reach 08