Reach 08 - Africa in Motion | Afraga a' Gluasad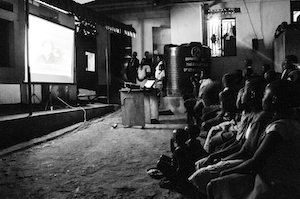 Dr Lizelle Bisschoff was a South African postgraduate when she came to Scotland to study African Cinema. It wasn't until her research began that she realised just how difficult it would be to source African-made films. When she contacted the then UK Film Council asking for some statistics on distribution of African cinema she discovered that a regrettable nine African films had been on general release in this country between 1995 and 2005. Bisschoff had to make do with the few VHS tapes and DVDs she could purchase, at extortionate prices, otherwise her only other option was to travel to Parisian archives to see African voices and stories, produced and directed by Africans, on the silverscreen.
Bisschoff saw the need for a platform for African Cinema and Art in Scotland, and so, the Africa in Motion (AiM) Film Festival was born. The first film festival was organised in 2006 and the event was hosted by the Filmhouse Cinema in Edinburgh. Since then the festival has grown into a hugely beneficial and influential platform for the African arts community internationally, consisting of screenings and complementary events such as masterclasses and Q&A sessions with directors, and discussion sessions with academics.
In 2015 the festival spanned twenty eight venues across Edinburgh and Glasgow including Summerhall, the Glasgow Film Theatre and the Centre for Contemporary Arts in Glasgow. This year marks the festival's tenth anniversary. Bisschoff claims that since 2006 the festival has screen nearly five hundred African films. The festival is not only committed to showcasing African voices, but in promoting gender equality in the industry. Over thirty percent of the films screened at AiM have been directed by women, which is impressive considering that only eleven percent of film directors are female internationally. Some of the films' subject matter concerns difficult issues facing Africans today, and so each of the screenings feature an introduction to the historical and cultural contexts of the films.
The festival is making strides to tackle the lack of diversity rife in the film industry by giving a platform to African films, fighting for gender equality in film-making more generally, and dealing with tough issues. Those are benefits felt by artists, but what about the general public? There are African diasporas across the UK, and there is a significant African community and cultural network in Glasgow particularly. One 2015 audience member commented that 'I am Kenyan, so these events and screenings are very close to my heart.' Suzi McIver from the Scottish Refugee Council said that the festival offers 'An opportunity to support refugees in other ways, by engaging with such powerful and insightful films.' Data shows that the AiM screenings have reached 30,000 people thus far. Bisschoff hopes to increase the outreach and engage with African communities in Scotland and on the continent.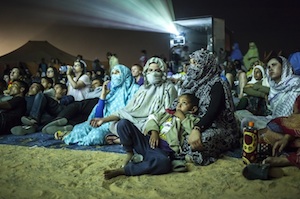 Creative Scotland have been the main partner and supporter of the festival since 2007, but AiM has a range of partners from venues to societies, cultural groups and charities such as, the African and Caribbean Network, the Swahili Clubs and Into Film. These partner groups have assisted AiM to set up pop-up screenings in the community, such as the Calabash Kenyan restaurant in Glasgow, which hosts fantastic 'Dine and View' events combining African films with dishes from the same nations. Into Film has helped AiM to screen African films to primary and high school children.
These outreach efforts have fostered new ventures in visual art, namely 'Ways We Watch Films in Africa' photography exhibit. This was an exhibit which showcased photographs of Africans from all over the continent watching films, from outdoor screenings on the dunes of the Western Sahara to a mother watching a film on her laptop while her children sleep in the background. You can see more of the photos here at the Africa in Motion website. The exhibit was hosted by galleries in Edinburgh and Glasgow, and has now gone on tour to Morocco and several European cities. The photographs were also featured in an article in the Guardian.
If you wish to support the festival or to become involved with Africa in Motion please contact the Festival Manager Justine Atkinson.
---
---
If you wish to find out more about this article or about how you can progress your ideas (i) as an academic wishing to engage with a non-academic organisation or (ii) as a non-academic organisation interested in engaging with the academic knowledge base, please email the College of Arts KE Team.
<<Back to the College of Arts Newsletter July 2016
<<Back to Reach 08