Reach 06 - Curation with Attitude
---
Visual Arts | Na h-Ealain Lèirsinneach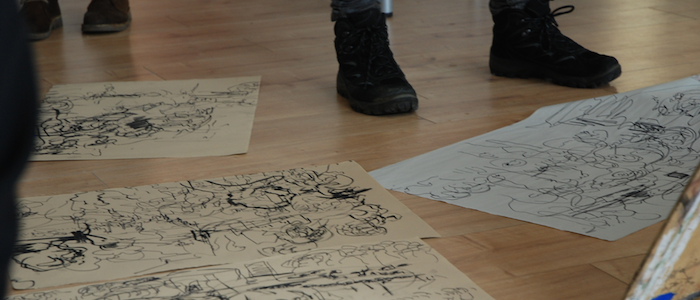 The new MLitt Curatorial Practice (Contemporary Art) has attitude, according to lecturer Lesley Young. A collaboration between Glasgow University and Glasgow School of Art, it is an exciting addition to the contemporary visual arts scene in Glasgow. At the same time, it is a reflection of the city's success as a place for artists to live and work. For many years, a strength of the scene has been its independence from London, meaning that artists here are diverse and involved in different debates; the Curatorial Practice course encourages similar diversity.
Curatorial students work alongside practice based students in their studio, used for production, making and display at Glasgow School of Art. This is important for the course, which aims to link students with the wider visual arts community. Glasgow itself has what Lesley Young describes as a 'critical mass' of artists, and believes the course will be a great addition to the strong professional community involved in visual culture. For Glasgow, too, it builds on the idea that the city is a destination for contemporary art, artists and critics.
The inaugural cohort of curatorial practice students has already demonstrated the broad networks that are available to it. As a collective they have worked with The Lighthouse to present Creative Times' Stockholm Summit, hosted events in their Merchant City studio and by curated The only way to do it is to do it an exhibition at the university's Hunterian Art Gallery.
The only way to do it is to do it draws on The Hunterian's collection of post-war American prints, within which the students spotted that many of the artists had studied or taught at the radical art school Black Mountain College. The college's ethos of 'making and doing' was one that mapped onto the 'do it yourself' approach found in Glasgow, allowing Glasgow based contemporary artists, Raydale Dower, Ciara Phillips and G.O.D.S (Glasgow Open Dance School) to be invited into the exhibition. To draw out the significance of the connections a series of 'activations' will be presented alongside the exhibition that allow the public to get involved - opportunities for audiences, artists, and the young curators encounter and learn from each other.
If you are a student who would like to find out more about the course, or an organisation that could offer an opportunity to students, please get in touch for information by emailing arts-ke@gla.ac.uk.
---
---
If you wish to find out more about this article or about how you can progress your ideas (i) as an academic wishing to engage with a non-academic organisation or (ii) as a non-academic organisation interested in engaging with the academic knowledge base, please email the College of Arts KE Team.
<<Back to Reach 06