Reach 05 - Conserving 'Democracy' for the Palace of Westminster
---
Dress & Textiles | Aodach & Obair-aodaich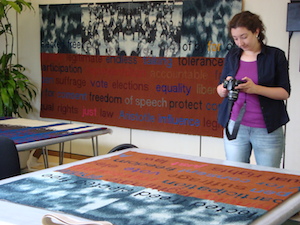 You may have seen tapestries, hanging in the background of television interviews and select committee meetings at Portcullis House? This year, the Palace of Westminster asked students from the College of Arts to conserve those same tapestries during parliament's August recess.
The Collections Care Manager at the Palace of Westminster, Caroline Babington, contacted the College of Arts about its textile collection. The tapestries in Portcullis House, a new parliament building opened in 2001, have been hanging on stretcher frames. This gives the tapestry little support, and it was time to mount the tapestries on solid boards instead: an example of "preventative conservation".
The students come from the College's two-year Masters course in Textile Conservation. They volunteer alongside BA students from Lincoln University and supervised by a freelance textile conservator, Zenzie Tinker. To put the tapestries safely onto boards they are stitching Velcro around all four edges. This will protect the tapestries from dust and insects and make sure they are well cared for in years to come.
What is good for the tapestries is also fantastic experience for the students. Working with large scale textiles, working in a team, and working to a very real deadline: these are all important professional skills. For the second year students, in particular, who will go straight from this project to the world of work, it is a useful transitional period.
The Palace of Westminster has offered the students other opportunities, too. They have met with some of the artists who designed the textiles, including Pat Taylor of West Dean Tapestry Studio, designer of the Democracy tapestries. They have had the chance to see more of how parliament functions and to visit the Westminster Cathedral archive.
In September, Portcullis House was open to the public as part of London's Open Doors Day and students could talk to visitors about their work.
After this valuable experience, students are equipped to work in museums or historic houses. Often they will start with internships, such as those organised by the Institute of Conservation, or short-term contracts before moving into permanent positions. After two years of running the Masters course, every graduate is working in the heritage sector. This impressive statistic illustrates the way in which the College has struck a fine balance in this course to make it a resounding success for staff, students and industry.
---
---
If you wish to find out more about this article or about how you can progress your ideas (i) as an academic wishing to engage with a non-academic organisation or (ii) as a non-academic organisation interested in engaging with the academic knowledge base, please email the College of Arts KE Team.
<<Back to Reach 05