Reach 05 - Our Generation
---
Visual Arts | Na h-Ealain Lèirsinneach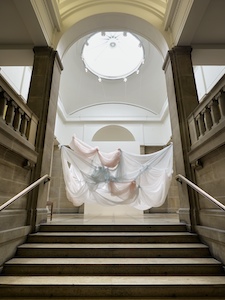 Over a hundred artists are represented in GENERATION, a landmark nation-wide Culture 2014 project which celebrates contemporary art in Scotland. Across the country, more than 60 venues have been hosting free exhibitions to showcase some of the most exciting and ground-breaking art made during the past 25 years. The diverse projects and exhibitions that make up GENERATION offer visitors a direct experience of many of the works that have brought international acclaim to Scotland's artistic scene. Iconic exhibitions such as Steven Campbell's 1990 'On Form and Fiction', or Ross Sinclair's 1996 'Real Life Rocky Mountain,' have been reprised, alongside many other key works and new commissions.
This ambitious project was produced with the assistance of partners including VisitScotland and EventScotland, British Council Scotland, Museums Galleries Scotland, Education Scotland, Young Scot, Children in Scotland and the BBC. The University played a part too. Dominic Paterson is part of the editorial board that helped shape two publications which aim to make the exhibition accessible to everyone from high school children upwards. The first is a guide to the exhibition which introduces each artist, and the second is a reader designed to give people an insight into the intense debates and discussions that have taken place amongst artists, curators and critics in Scotland in the recent past. Dominic contributed texts about a number of important contemporary artists, written with their close co-operation. Both volumes are edited by Moira Jeffrey, a leading art critic and herself an alumna of the University. The books are published by the National Galleries of Scotland (NGS) and are being distributed free to over 2,000 schools as well as being on sale in bookshops. Hopefully they will help inspire the next generation of artists.
For key partners Glasgow Life, NGS,and Creative Scotland, a central aim was to generate new audiences for contemporary art, and to introduce them to as many significant artists as possible. So alongside these publications there is also a wide range of digital content that is also freely available – from the website (generationartscotland.org) to the Art Hunter app. Visitors to the website can watch interviews with artists and videos which introduce themes, see how key exhibitions fit into a timeline of recent Scottish culture, or get to grips with the language of contemporary art via a handy glossary. The website has already received more than 34,000 unique visitors and this number will continue to rise.
Visitor numbers in real life are impressive too. During the Commonwealth Games, the Gallery of Modern Art in Glasgow was receiving over 3,000 visitors per day to exhibitions of works by Sara Barker, Nathan Coley, Douglas Gordon and Moyna Flannagan. Glasgow, with its acknowledged role as an international centre for the production of cutting-edge art, is inevitably central to GENERATION, but the effect will be felt much further away too: exhibitions have been held in venues from Orkney to Dumfries, Bute to Fife. The participating venues have displayed the publications for visitors, used them as a resource for work with young people and in preparing interpretation material for exhibition visitors
Katrina Brown, Director of The Common Guild, a visual arts organisation based in Glasgow, played a vital role in making GENERATION possible as the associate curator for the project. Katrina has also had a close relationship with the University of Glasgow. As well as receiving an honorary doctorate here, she has frequently collaborated with Dominic to bring leading artists to speak to staff and students. Most recently, all three of the artists selected by The Common Guild for Scotland's participation in the 2013 Venice Biennale took part in public talks or conversations, and Phil Collins, whose major commission for the Commonwealth Games, Tomorrow Is Always Too Long, was filmed in part at the University, also spoke here earlier this year.
Dominic emphasises that his contribution to GENERATION is part of an ongoing effort to make connections with the vibrant art community in Scotland. As he says, "making links between the University and artists and art institutions has been a crucial influence on the development of teaching of contemporary art in the College of Arts. This is a huge bonus for students, especially as many of them have now been able to hear artists who are – or are becoming – world famous. To have been able to host artists such as Karla Black, Christine Borland, Duncan Campbell, Richard Wright, to name just a few, has been a huge privilege for me. Above all GENERATION is about trying to share these kinds of exciting opportunities with a larger audience, to help pepole connect with what artists do, and what they have to say".
It's not too late to get involved in GENERATION. At the University of Glasgow, The Hunterian Art Gallery is hosting the work of Turner Prize nominee Lucy Skaer until January 2015, and there are exhibitions, talks and events going on across the country, not to be missed. You can also watch clips from 'Maverick Generation', a BBC Four production about the show.
---
---
If you wish to find out more about this article or about how you can progress your ideas (i) as an academic wishing to engage with a non-academic organisation or (ii) as a non-academic organisation interested in engaging with the academic knowledge base, please email the College of Arts KE Team.
<<Back to Reach 05