Reach 05 - A National Academy of Comics in Glasgow?
---
Writing & Publishing | Sgrìobhadh agus Foillseachadh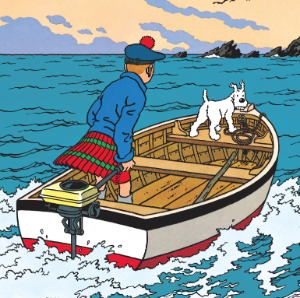 'As we all know, the world's first comic was invented in Glasgow.' Prof Laurence Grove might not be right that we are all aware of comic book history, but perhaps he hopes we soon will be. With an exhibition at The Hunterian in 2016, Laurence is also in talks with the Centre for Contemporary Arts (CCA), Creative Scotland and members of the comics industry to set up a National Academy of Comics here in Glasgow, which may become the object of a bid for major grant funding.
Laurence knows that there is a big interest in comics in Glasgow from his partnership with Comic Con, a major comic conference that is held every July at the CCA: 'In some ways,' he says, 'it is quite close to the heart of Scotland's cultural beat.' Over 10,000 people attend, some coming simply to dress up as Batman and others to engage, as Laurence does, with the context, history and theory of comics. As Laurence points out, there is no contradiction between this intellectual side of studying comics and enjoying them.
A recent meeting between creators, academics, representatives of Creative Scotland and the comics industry aimed to take what Laurence sees as the next natural step: creating a National Academy of Comics. This would give comics a sense of place in Glasgow where the CCA, the Glasgow School of Art, makers, sellers and buyers of comics could come together with people from across Scotland.
Laurence has identified the McLellan Galleries in the city centre as a beautiful facility that is currently underused. A location such as this could provide space for permanent and temporary exhibitions as well as allowing comic sellers such as Plan B to operate within the same space, benefitting everyone.
For this venture to work, it would need to be truly cross-disciplinary with collaboration from bodies such as Creative Scotland, Glasgow Museums, National Museums Scotland, National Library of Scotland, as well as the universities and people who make and sell comics.
Laurence is keen to hear from anyone working within these industries, and also comic fans, for input into the creation of this national gallery for comics. Now is the time to get involved with this exciting new project, so contact Laurence via email: laurence.grove@gla.ac.uk.
---
---
If you wish to find out more about this article or about how you can progress your ideas (i) as an academic wishing to engage with a non-academic organisation or (ii) as a non-academic organisation interested in engaging with the academic knowledge base, please email the College of Arts KE Team.
<<Back to Reach 05