Reach 05 - What would your organisation be able to achieve with increased capability or capacity?
---
‌Comparing the knowledge base and expertise within the College of Arts against the existing industry sectors, eight key areas have been identified that parallel almost all our disciplines. These include Cultural Education, Digital, Dress & Textiles, Film & Broadcasting, Heritage, Performing Arts, Visual Arts and Writing and Publishing.
According to a report commissioned by Creative Scotland in partnership with Scottish Enterprise in 2012, the total Gross Value Added for Arts and Creative Industries in Scotland was £3.2 billion. The industry sectors highlighted and hence knowledge base available in the College of Arts spans approximately 79% or £2.5 billion of this.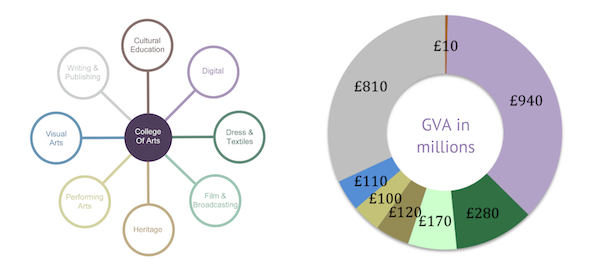 Over the forthcoming months the College of Arts will be dedicating one month to each of these industry sectors: (September 14 – Cultural Education) October 14 – Writing & Publishing; November 14 – Visual Arts; December 14 – Digital; January 15 – Performing Arts; February –Film & Broadcasting; March 15 – Heritage; April 15 - Dress & Textiles. Throughout this period, we hope to communicate with organisations that are interested in learning about our strengths and to attempt to engage with future partners. The month-long campaigns will lead up to the second College of Arts Industry Day, to be held 5th June 2015.
If you are part of an organisation that identifies with any of the industry sectors mentioned previously then please do email fraser.rowan@glasgow.ac.uk to discuss how we might work together in the future.
To ensure you don't miss out in any of the activities follow our blog and our social media feeds including Twitter, YouTube and Google+. Most of all please join our College of Arts Industry Engagement group where all the Industry news and discussions will be posted.
---
---
<<Back to Reach 05