Reach 04 - Cataloguing Whistler
---
Visual Arts | Na h-Ealain Lèirsinneach
‌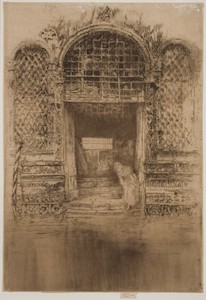 After a career spent working on Whistler's life and work, Professor Margaret MacDonald still finds his etchings "so beautiful and fascinating". A six-year project has resulted in the 490 etchings and 10,000 impressions of etchings being catalogued online and between 10,000 and 20,000 visitors to the website (http://etchings.arts.gla.ac.uk/) each month.
Glasgow holds the biggest collection of Whistler's works, as a result of the university's careful approach to his younger sister-in-law, who inherited everything. Apart from a family connection to Scotland, Whistler also had a good relationship with the artists in Glasgow who had supported him and made him the president of the International Society of Sculptors, Painters and Gravers. Glasgow Museums was also the first public collection to purchase one of his works. Whistler's work finally came to Glasgow in two gifts (in 1935 and 1955) and a substantial bequest in 1958.
The Whistler Etchings project was funded by the Arts & Humanities Research Council (AHRC) and several other foundations and involved a whole team of people who, Margaret says, became very good at noticing the minute variations between different impressions of the same etching. The website contains wonderful images for every entry, which can be zoomed into to get a real sense of detail, right down to the paper itself. The project is too big to publish in print, but Margaret thinks that the website is much better for comparing images and flicking through information in any case. Although it is not the same as looking at a work of art, it allows thousands of people to look at pictures which are held in inaccessible print rooms or stores across the world.
The most unique aspect of the project is the level of detailed information it provides about each individual etching. Instead of just the title and the image, visitors can seethe date, the historical context and can establish how many impressions of the etching there were. This is important because often, Margaret says, "people don't know quite what they're looking at."
During the project, several new etchings were found, of which there are no known prints. Margaret herself was experimenting one day with a scanner and realised that by reversing the image of an unprinted copperplate, she could see the etching for the first time. These "virtual prints" filled in a big gap for her, because there were lots of "unknown, rather beautiful" pictures of Whistler's wife who had died young – perhaps the reason why the prints were never used.
Margaret has also been able to identify specific sites drawn by Whistler; she jokes that "One of the really hard things about being a historian is going to Venice to identify sites." This information was previously unknown, so the project has been able to tell a whole new story about Whistler. This has had a huge impact on curators and museums like the Baltimore Museum of Art, the Freer Gallery of Art and theSmithsonian Institution, who have re-catalogued whole collections on the basis of this research. Adam McCoy from Christie's adds that they have "transitioned to citing the catalogue raisonné for appraisals and in our upcoming catalogues. It a wonderful research tool and fantastic scholarship!"
For others, too, such as Sylvie François from the Swann Auction Galleries, New York, the catalogue is a wonderful addition. She says: "I've learned so much using the website and am always recommending it to clients who own Whistler etchings and would like to learn more about them!"
The website is particularly useful because it allows visitors to the site to search the catalogue in many different ways: by who is in the etching, for example, by who owned the prints or by which exhibitions the etchings are in. In this way, the site is not just about Whistler but about the whole period: Victorian London and Paris, Whistler's relationship with other artists, and the influences on Whistler throughout his life. A recently published biography of Whistler has used the information and university students have also written postgraduate theses using the material. Margaret herself has published several articles on the subject and an exciting exhibition at the Dulwich Picture Gallery is now moving to the Freer Gallery of Art, the first time the Freer has held an exhibition featuring art from an external source. Dr Lee Glazer, Associate Curator at the Freer, recognises that the strong relationship with the College of Arts and particularly the collaboration with Margaret have been crucial to achieving the gallery's aim of "de-isolating" Whistler.
Margaret's expertise on the subject is widely recognised and as a result she receives a number of enquiries about paintings every day. In the future, she hopes to revise her earlier catalogue of Whistler's works and get images of his oil paintings online, too. She is currently in the process of applying for funding to support the digitising process, which can cost a considerable amount. It is worth it, though, as Margaret says, "I didn't realise how much I loved them until I really, really started looking into them.". This project means thousands of other people will be able to really, really look into them too.
---
---
If you wish to find out more about this article or about how you can progress your ideas (i) as an academic wishing to engage with a non-academic organisation or (ii) as a non-academic organisation interested in engaging with the academic knowledge base, please email the College of Arts KE Team.
<<Back to Reach 04