Reach 04 - Stirling Heads Restored
---
Heritage | Dualchas
‌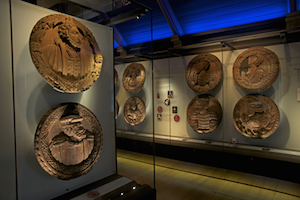 For the first time since the eighteenth century, the Stirling Heads can all be seen together, well lit and fully explained, at Stirling Castle. As Dr Sally Rush, a senior lecturer in History of Art, says, "They are back, out there, doing their job as part of the Scottish heritage industry" - thanks, in large part, to her own hard work. The figures show what a significant achievement this is: in 2011/12 Stirling Castle received 442,000 visitors and was the second most popular historic attraction in Scotland according to Historic Scotland – an increase of 17% due to the £12m restoration.
The Palace at Stirling was built by James V of Scotland to celebrate two dynastic marriages but the interiors were lost once it was occupied by the army in the 18th century and the ceilings displaying the Stirling Heads taken down. Sally was part of the two-phase restoration project that helped to bring the Great Hall and Palace block back to life, furnished and decorated as it might have been seen in the sixteenth century. To engage the visitors, there are costumed interpreters who impersonate characters from the court and there are also specially-designed exhibition spaces for children to help them understand life at court.
The Stirling Heads are located on the top floor of the Palace in a new gallery, where there is also a small cinema space with a short film explaining how to interpret the sculpture on the outside of the building. Through these, interested members of the public can benefit directly from Sally's extensive research and gain a fascinating insight into the palace and the messages it would have transmitted to a renaissance visitor.
For Sally, this is part of a valuable ongoing relationship with Historic Scotland. It sharpens her insight into how the different aspects of the Renaissance palace came together and she also enjoys being on site with a multi-disciplinary team with whom she can collaborate and pool ideas. It is an opportunity to meet people who work with the same material in a different way.
For a teacher, too, the work can bring opportunities, and Sally regularly takes undergraduates and postgraduates to visit Stirling to meet practitioners who work there. It also helps to be in contact with organisations who will, hopefully, be the students' employers in years to come. For example, Sally is working on a research proposal with the National Museums of Scotland and hopes to get funding through the Scottish Cultural Heritage Consortium for a PhD student to work with them. As tourism in Scotland continues to boom, this kind of restoration, regeneration and reinterpretation is surely set to become increasingly important.
---
---
If you wish to find out more about this article or about how you can progress your ideas (i) as an academic wishing to engage with a non-academic organisation or (ii) as a non-academic organisation interested in engaging with the academic knowledge base, please email the College of Arts KE Team.
<<Back to Reach 04