Reach 04 - ReINVENT
---
Dress & Textiles | Aodach & Obair-aodaich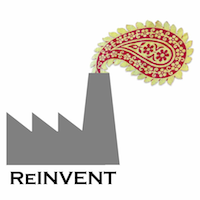 'ReINVENT' and 'ReCREATE' are bold titles for any project, but Dr Anita Quye's work justifies the claim. Her work brings together people from universities, museums and local communities to think about textiles from an interdisciplinary perspective and fully explore Scotland's overlooked history of textile production.
Anita's current work stems from a PhD project she is supervising about Turkey Red, a dye with an important history for nineteenth-century Glasgow. This led Anita to think about how things were made and what the end-products were of the industrial process. She and Dr Klaus Staubermann, Principal Curator of Technology, National Museums Scotland brought together a group of people including representatives from Paisley Museum and Art Gallery and Glasgow Museums to discuss these questions in three workshops, which investigated how materials were made, what equipment was needed, and how that equipment was powered.
By the end of these three workshops, the project had gathered momentum and attracted the interest of others including the current chairman of Royal Commission on the Ancient and Historical Monuments of Scotland, Professor John Hume, an esteemed industrial historian. In his words, it is a "very, very good project and I am pleased to be associated with it in whatever way I can be". The workshops helped to create a network through which people could express their interest in these subjects and start to make connections.
The success of these workshops was evidenced at a public event in Maryhill Burgh Halls, where over sixty people attended to hear the outcomes of the discussions and to learn about the National Museum of Scotland's plans to use this information in its new galleries. These new galleries hope to showcase the coming together of art, design and technology. Anita considers this a significant step, and wants other museums to recognise the importance of their collections in the same way. A printing block in one museum could be the starting point for a piece of textile in another museum; it would be fantastic to connect these stories so that the whole picture can re-emerge.
Anita wants schools to take a similarly holistic approach. She is working with the School of Chemistry at the University of Glasgow on an event for Glasgow Science Week, where over sixty secondary school children will have the opportunity to recreate nineteenth-century designs using natural dyes. Through this artistic context, the students will also come to understand the scientific processes behind it. The two – science and art – should not be separated from one another and the combination of the two has been made possible by the increased flexibility of the Curriculum for Excellence.
Anita is interested in "using the old to inspire the new" and wants to emphasise that "old doesn't always equal bad". Much of the evidence for textile production in Scotland has disappeared but by educating school children and empowering museums to recognise their own resources, knowledge and pride in the former industry can return. If you are interested, or have a piece of textile history hiding in your attic, please get in touch.
---
---
If you wish to find out more about this article or about how you can progress your ideas (i) as an academic wishing to engage with a non-academic organisation or (ii) as a non-academic organisation interested in engaging with the academic knowledge base, please email the College of Arts KE Team.
<<Back to Reach 04