Reach 04 - Life Is A Journey
---
Writing & Publishing | Sgrìobhadh agus Foillseachadh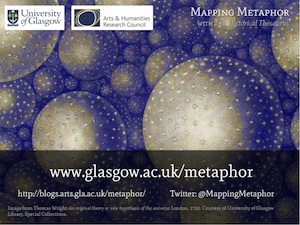 Describing life as a journey is a metaphor that works in a straightforward and predictable way. It is very common to take a concrete idea (a journey) and use it to describe an abstract concept (life). It is a metaphor that most people would understand and use without thinking, but do you know when that metaphor first came into use and what other metaphors were around at the time? Investigating this is the aim of the 'Mapping Metaphor with the Historical Thesaurus' project.
As Dr Wendy Anderson, Principal Investigator of the project, explains, 'Mapping Metaphor' is the first of many projects to make use of the fantastic resource that is the Historical Thesaurus database. With funding from the Arts & Humanities Research Council (AHRC), academics in the College of Arts have 'mapped' many of the metaphors of the English language. To create these maps, the words from the Historical Thesaurus were divided into around 400 categories (for example 'life' or 'journeys') and then the words within these categories were compared automatically with one another to see where possible metaphorical connections exist. Where there are words in common in two categories, this is sometimes because of metaphor: for example, in "life is a journey" we use some of the words from the concept of 'journey' to talk about 'life'. The results will be available through online visualisations – the 'Metaphor Map' - that will show direct links between categories, as well as giving examples and the date to which the links can be traced.
Now the project is nearly complete, things are starting to get really exciting. There are so many ways in which this project can be used and many people who can benefit from it.
Researchers of all disciplines will find the Metaphor Map visualisations an incredibly powerful tool for interpreting the meaning of texts and the use of language by authors across time. Dr Kenneth Austin, a Senior Lecturer in Early Modern History at the University of Bristol, studies fear and is fascinated by the finding that the word 'thunderbolt' starts to take on the metaphorical meaning 'to terrify' in the late sixteenth century. Kenneth notes that "This encourages us to ask why this meaning emerged - whether because of changing understandings of religion, for instance, or greater attention to the natural world." The thoroughness of the Mapping Metaphor database means that these examples can now be fully studied and appreciated.
It can also be used for teaching in universities at an advanced linguistic level but also in secondary schools. It will be a very intuitive tool and can aid discussions of where meaning comes from and help students to understand meaning as a wider aspect of language by exploring the connections within the English language.
Excitingly, too, it will be an invaluable resource for creative writers, writers of historical novels, television and film producers and an accurate way of checking the authenticity of language. It can even provide a way into the mind-set of a period: as Kenneth says, "It indicates what words people at different times used to express different ideas and phenomena, including emotions like fear, and thus how they conceptualised their existence."
The project hopes to make the visualisations available by the end of 2014 and everyone is invited to journey round the site and help to bring the project to life.
---
---
If you wish to find out more about this article or about how you can progress your ideas (i) as an academic wishing to engage with a non-academic organisation or (ii) as a non-academic organisation interested in engaging with the academic knowledge base, please email the College of Arts KE Team.
<<Back to Reach 04