Reach 04 - Events and Funding
---
‌Events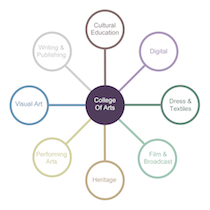 Over the last 12 months, the College of Arts has hosted several knowledge exchange events attracting a diverse audience of over 500 attendees from film, TV and radio production companies, technology companies, religious communities, academics and many more. These events are specifically designed to maximize the potential for you to connect with the right partners to deliver your project. As our programme of events for next year has yet to be finalized, please contact us (arts-ke@glasgow.ac.uk)if you have any ideas for events you would like us to explore with you.
If you are attending the Glasgow Science Festival keep an eye out for our free public master class in Grammar, "You're grammar are terrible", with Professor Jeremy Smith, where we will be launching a suite of new grammar apps (Saturday 7 June, Kelvingrove Museum). Other events include a "Historical Dyeing and Printing Workshop" hosted by The Centre for Textile Conservation and Technical Art History, University Archives and the School of Chemistry (Friday6 June, venue to be arranged) and "Digital Innovations and How They Have Transformed the Private Sector" (Monday 9 June, venue to be arranged). 'Mapping Metaphor of English' and 'Scottish Words and Placenames' will be featured as part of the Science on Sunday showcase, Sunday 15 June, Wolfson Medical Building (times to be confirmed).
For all festival listings and venue details please visit the Glasgow Science Festival website at http://www.glasgowsciencefestival.org.uk/ .
Funding Your Endeavour
Knowledge exchange projects rarely start out as major programmes of work. Such large-scale projects tend to grow from more humble beginnings, such as a feasibility study or a student internship.
There are many ways in which engagement with the university can be funded. Although welcome, financial contributions are not always a pre-requisite to partnering. If you have been inspired by any of the articles in Reach and wish to discuss a potential project, no matter how small, email (arts-ke@glasgow.ac.uk) the College of Arts KE Team today.
---
---
<<Back to Reach 04