Reach 03 - Glasgow Gaelic Stories
---
Cultural Education | Foghlam Cultarail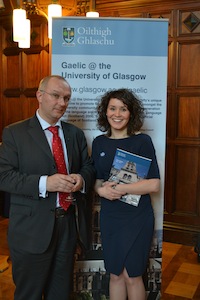 Soillse, the name of an interuniversity project in which the College of Arts plays a pivotal role, is an abstract Gaelic word meaning "light, brightness". As Professor Rob Ó Maolalaigh explains, "it's about bringing elucidation and insight to Gaelic development." Through Soillse and other initiatives, the College is contributing to increasing and enhancing research capacity for the revitalisation and maintenance of the Gaelic language in Scotland.
Soillse Glasgow has a number of specific projects and researchers. One post-doctoral researcher works on Gaelic language corpus planning, which is focused on getting the formal structure of the language right for the purposes of education, broadcasting, standardisation and so on. As the language develops, as all languages do, there is a need for agreed frameworks for the development of new terminologies to match new concepts and the updating of spelling and grammar conventions. Glasgow's approach to this is drawn from the grassroots, which means asking teachers, professionals and others the problems they face when teaching, using and developing Gaelic. This approach is intended to ensure buy-in from the maximum number of stakeholders.
There are also two PhD students based in Glasgow and working on Soillse. One of their projects looks at adult Gaelic learners, how adults learn language, the stages involved, and how that learning can be assessed. This will give a better understanding of how Gaelic can be taught, as well as possibly leading to the creation of a bespoke framework of adult learning for Scottish Gaelic. The other project is analysing the impact of investment in Gaelic broadcasting and the effect that growing viewing figures is having on attitudes and openness to the language as well as language use.
Also funded by the Soillse project is Rob's own new project, the Glasgow Gaelic Story/ Sgeul na Gàidhlig. With this, Rob hopes to tell the untold story of Gaelic at the University, of the many influential Gaelic speakers who have passed through the University of Glasgow, both students and staff, and who have gone on to make significant contributions to wider society in the past 550 years. One of these was Sir Donald MacAlister (1854-1934), probably the last Gaelic-speaking Principal (1907-29) and Chancellor (1929-34) of the University, and a a speaker of almost 20 languages. This linguistic ability, Rob is certain, came from him being bilingual in Gaelic and English. Gaelic "is an asset which opens up exciting opportunities and possibilities for its speakers".
Iain Caimbeul, the Senior Project Manager of Soillse, expects that the outputs from this project "will not only raise the profile of the language in Scotland but will also show the major contribution that Gaelic speakers have made and continue to make to academic excellence at the University of Glasgow". Rob wants people to be aware that "Gaelic isn't just for the classroom, that it's a world language that needs to be normalised and celebrated." He wants to ensure that it is "a language that is equipped for the 21st century".
Outside of Soillse, Rob and his team are continuing to work on the Gaelic Language Initiative. Rob and a research assistant began researching language officers in Irish and Welsh universities before successfully applying for funding from the Scottish Funding Council, Scottish Government and the Bòrd na Gàidhlig to employ Scotland's first ever university Gaelic Language Officer (GLO), Fiona Dunn. Other universities have followed suit and now there are several GLOs across Scotland. Fiona, through classes and events, promotes Gaelic language and culture among staff and students throughout the University, and provides opportunities for Gaelic speakers to use and develop their language. Fluent Gaelic-speaking students also have the opportunity to live in a Gaelic speaking flat, Taigh na Gàidhlig, which has an associated employability skills-related personal development module. For younger school pupils in the local community, Fiona has organised school visits to the Hunterian where children are given tours from postgraduate students in Gaelic, showing children that Gaelic has a function outside the classroom too. Rob and Fiona have also organised a conference for Higher Gaelic students in the past, giving them sample classes on language and literature within the University.
Rob believes that Gaelic belongs to everyone, not just students of Gaelic, and he is keen to involve Gaelic speakers and learners from across the University and the local community. At the end of 2013, the University will hold a Gaelic Language Day (its second) to promote Gaelic amongst the whole University community. This is part of the University's five year Gaelic Language Plan, now compulsory for every publicly funded institution. After last year's event, signage for food in the University cafe, the Fraser Building, is now bilingual. Although a small step, Rob knows it is a significant one: "it's really all about normalising and developing the Gaelic language within the workplace, within the University and wider society."