Reach 03 - Landscape & Environment: Policy & Practice
---
Heritage | Dualchas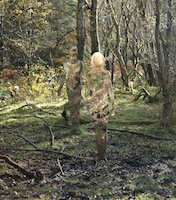 Dr Chris Dalglish and Dr Kenny Brophy have spent several years building up formal and informal networks at local, national, and international levels. In different ways, those relationships are helping them to generate research which is intended to underpin new practices and policies on how landscapes are managed.
Of the many collaborators involved in the networks, two organisations in particular have played key roles: Northlight Heritage Ltd, based in Glasgow, and a non-governmental organisation from Greece called Med-INA. Through the relationship with Med-INA a connection with the Council of Europe has developed which provides access to the international world of policy and practice. These connections enable Chris and Kenny to engage in a way that would otherwise be impossible.
For Aphrodite Sorotou, from Med-INA, there are few scientists as "inspiring and enthusiastic" as Chris and Kenny, and she feels "fortunate to have the chance to work with and to be guided by them." In her view, Chris and Kenny's perspective as archaeologists is crucial "for the advancement of integrated landscape research in the UK and abroad" and enables others in that field to work towards a more holistic approach to the subject.
Northlight Heritage specialise in commercial archaeological services for developers, so they have a practical grounding and expertise in the development world. As a charity, they reinvest their profits into community and education projects, including several in Govan, which give them an additional cultural role and connections to different areas of the creative arts.
Via his blog, the Urban Prehistorian, Kenny considers "the relationship between pre-historic monuments and modern urban landscapes, and how we can maybe make use of them to help improve those landscapes and inform local people". This has led to work with school children in Crieff, whose playground sits on top of a prehistoric monument. Kenny took the children out to the playground and encouraged them to think about where the monument was on the ground. He has also done similar work with a Heritage Lottery Fund project working with local unemployed young people in Govan, where there is a possible prehistoric burial mound under a car park.
These local projects are important because they communicate ideas to people who would not normally be aware of or think about such subject matter. For Kenny, they have also helped to establish relationships with these communities and build methodologies that will be useful in future projects. On a larger scale, though, Chris explains how this work leads to the next step: "It's about using the heritage of the area to provoke a public discussion about its future and turn those local level interventions into something more substantial – to create new practices, even to recommend new policies." Using these individual examples, Chris and Kenny can try to think on a broader canvas about how people across the country, and the world, can be thinking and practising differently.
The European Network for Archaeology and Integrated Landscape Research (ENAILR) was launched a year ago. Involving eleven countries and partners in universities, research institutes, professional practice, the third sector, government agencies and other public bodies, the Network exists to create novel research and knowledge exchange collaborations. By working with the different partners who make up the network, Chris and Kenny hope that the outcomes will respond to real problems in viable and practical ways. As Aphrodite notes, this part of Chris and Kenny's work is also important in enabling the communication of research and results to the public and policy makers.
In recognition of the prominent role that the College of Arts can play in international discourses, the European Network's first major knowledge exchange event will be held at the University of Glasgow in early 2014. The event will consist of a problem-orientated workshop, tackling issues like how heritage can play an important role in the future development of towns, cities and rural areas in Scotland, contributing to a more sustainable approach which generates cultural, social, economic and environmental benefits. Importantly, the event will also provide a springboard for discussing and developing future proposals for international, collaborative research and knowledge exchange activities.