Reach 03 - Guide to engaging with the College
---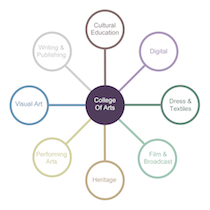 In our current climate, it is imperative that any organisation utilise all capability and capacity it can leverage to stay ahead of the competition and to provide the best service it possibly can. The College of Arts believes that it can be an asset to organisations in the Arts, Creative, Cultural, Heritage sectors and beyond. From short-term student internships to sponsored PhD scholarships, £5,000 First Step Award vouchers to £million collaborative research projects, we have a variety of mechanisms in place to work with you, including but not limited to:
Student Sponsoring -
Student Placements / Internships – short-term focused projects (modest stipend to student)
Masters or PhD Scholarships – 1 or 3 year research project (£5K-36K)
Knowledge Transfer Partnerships – 1-3 year student project (approx. £5K-50K)
Feasibility / Investigative short term academic engagement
First Step Awards – 3-6 month project up to £5K (can be in-kind)
Innovation Vouchers - 3-6 month project up to £5K (can be in-kind)
Knowledge Exchange Fund – 3-9 month project up to £30K (can be in-kind)
Service Provision - variable duration and cost
Consultancy
Continuing Professional Development
Contract Research.
New Knowledge Exchange Resources
A wealth of new resources has been developed, designed to communicate the activities of the College of Arts internally to academic peers and to organisations with which we have worked or would wish to work. These include:
If you wish to learn more about how you can work with the College of Arts or how you can feature your work via the channels above, email the College knowledge exchange team at arts-ke@glasgow.ac.uk.