Reach 03 - Museum Curators become Affiliates in History of Art
---
Visual Arts | Na h-Ealain Lèirsinneach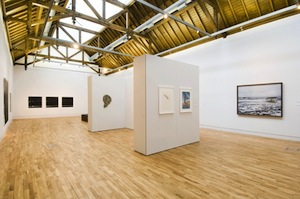 After ten years, the National Collecting Scheme Scotland (NCSS) is coming to an end, but Affiliate, a new pilot project led by Dr Tina Fiske, is to carry on the good work by drawing curators into the research culture of the College of Arts.
Tina became involved with the NCSS in 2007, during the second phase of the project, which enabled Scottish museums and galleries to acquire works of contemporary art. By 2012, Dr Fiske was keen to develop something new. That's where Affiliate comes in.
As Tina explains: "We were looking for ways in which the curators could move forward with some of the intellectual thinking around the work they've done through the NCSS." The pilot project brings curators from seven museum partners into the College of Arts, as affiliates in History of Art. The aim is that they will be connected to the research and teaching expertise and culture that the college has to offer. This will give them the impetus to carry out their own research, design a project, or establish a relationship to move the work they did under the NCSS forward with new energy.
The Scottish Arts Council, now Creative Scotland, launched the NCSS in 2003 and has provided a significant amount of funding to support it. It has put forward two tranches of £25,000 for Affiliate. Although a small part of this money is earmarked for administrative costs, the vast majority will go directly to the research projects designed by the galleries themselves. So, as Tina points out, "Creative Scotland is using us as a place to park and structure how the money is passed out to these seven partners – I think that's a really interesting model."
Six out of seven partners have each already established a research project and one of these has already benefited directly from the project's funding. Dr Jennifer Melville is the Lead Curator of Art at Aberdeen Art Gallery and received funding from Affiliate in support of research trips to the Venice Biennale and to Manchester International.
At the end of 2014, Aberdeen Art Gallery will be emptied in preparation for a major redevelopment, so Jennifer was particularly interested in seeing installation and performance art that could inform her proposal for something similar to engage temporarily with the emptied galleries when their collection is removed. At the Biennale she was inspired by a number of international installations and performance works, which told stories with contemporary and historical resonances. Jennifer says: "I believe that it has certainly informed me in the direction I would like to take for our slot in late 2014 and I now look forward to progressing that with my colleague, Jason Williamson."
Sean McGlashan from Glasgow's Gallery of Modern Art (GoMA) is also progressing a project via Affiliate. As GoMA's Curator of Contemporary Art, he has just opened an exhibition called A Picture Show and, through Affiliate, Sean will continue a dialogue with two of the artists in the exhibition, visiting Glasgow Museums' stores, engaging with the painting collection and discussing directions for further exhibitions. This is, as Tina describes it, addressing the "and then?" that can come after exhibitions are opened.